Paranormal Activity 4
(2012)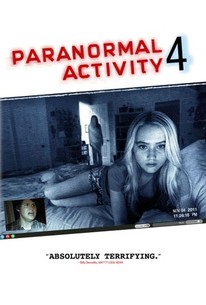 TOMATOMETER
AUDIENCE SCORE
Critic Consensus: While it does manage to wring a few more screams out of the franchise's surprisingly durable premise, Paranormal Activity 4 provides fans of the series with dismayingly diminishing returns.
Paranormal Activity 4 Photos
Movie Info
The fourth installment in the popular horror franchise.
News & Interviews for Paranormal Activity 4
Critic Reviews for Paranormal Activity 4
Audience Reviews for Paranormal Activity 4
A great 10-minute short expanded into a tediously boring 90 minute feature that only reflects the studio's desperation (and lack of inspiration) to milk this franchise for all its worth.
Edward Boxler
Super Reviewer
Story fatigue had already crept into this series well before this installment. Once again we are presented with lots of found footage from computer webcams. Shots of seemingly empty rooms, doors that close by themselves and loud bursts of noise following a period of silence. A couple jolted me awake. The script's contribution this time is to introduce the camera from a Microsoft Kinect video game console with the infrared tracking dots bathing the room in an eerie green light. The outline of an unexplained figure is about as scary as this gets. The human star is Alex, a teen girl played by Kathryn Newton. She is an appealing presence and conveys the natural vibe of a real teen. The same goes for actor Matt Shively who plays her boyfriend Ben. They are understandably freaked out by the strange goings on while the rest of the family inexplicably dismiss flying knives and possessed children as nothing, natch. The Featherston sisters, Katie & Kristi, have historically been the focus of the supernatural activity in this franchise. Kristi appears only in flashback and Katie is relegated to a minor character. The drama isn't advanced in any meaningful way. We're merely left with more of the same parlor tricks you've seen in 3 installments before. Except this time they're done with less enthusiasm. Despite the lackluster performance at the box office, PA5 is coming this October. fastfilmreviews.wordpress.com
Mark Hobin
Super Reviewer
Told almost entirely through Skype on computers and cell phones, "Paranormal Activity 4" is not just the worst of the series, but it just an overall poor film. The acting is fine, but the plot makes almost no sense, because it tries too hard to intertwine the story lines from the previous films. Nothing about this film works, and even though some of the previous instalments relied on cool jump scares to make it watchable, this film doesn't even try to accomplish that, because it waits until the last moment of the film to be even remotely terrifying, and that is be being as generous as I possibly can. This film is only 80 minutes long, and when a film that short, feels too long, there is something wrong. Everything about this film from the directing, to the script, is just so sloppy. I don't know how the studio green lit this piece of shit.
Paranormal Activity 4 Quotes
| | |
| --- | --- |
| Alex: | Oh my God! Please don't hurt me. |