ParaNorman
(2012)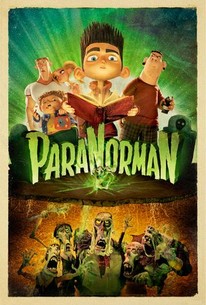 TOMATOMETER
AUDIENCE SCORE
Critic Consensus: Beautifully animated and solidly scripted, ParaNorman will entertain (and frighten) older children while providing surprisingly thoughtful fare for their parents.
Movie Info
The new 3D stop-motion comedy thriller from animation company LAIKA, reteaming the company with Focus Features after the groundbreaking Academy Award-nominated Coraline. ParaNorman is, following Coraline, the company's second stop-motion animated feature to be made in 3D. In ParaNorman, a small town comes under siege by zombies. Who can it call? Only misunderstood local boy Norman (Kodi Smit-McPhee), who is able to speak with the dead. In addition to the zombies, he'll have to take on ghosts, witches and, worst, of all, grown-ups, to save his town from a centuries-old curse. But this young ghoul whisperer may find his paranormal activities pushed to their otherworldly limits. -- (C) Focus
News & Interviews for ParaNorman
Critic Reviews for ParaNorman
Audience Reviews for ParaNorman
The superb animation combines 3D stop-motion and CGI effects into a dazzling visual spectacle, but the plot drags with irregular pacing and only occasional funny jokes. The result is an average experience that ends with a clichéd message about how bullying is bad.
Carlos Magalhães
Super Reviewer
½
The animation is really original and well done, the effort that had to go into this film alone makes you want to appreciate it. Sadly, the story isn't much help after a decent start. While it is likable that the film tries to stay surprising and avoid stereotypes the plot becomes a bit of a mess in the second half. It's also surprisingly gritty and not exactly for all children. Somewhat disappointing.
From the same studio that created the delightfully creepy "Coraline" comes another family horror flick that once again boasts great stop-motion animation. Unfortunately, it's a shame to report that the rest of the film is not nearly as finely crafted in other areas. It's not like the narrative didn't contain an interesting premise, that which follows a socially awkward boy named Norman, who has the uncanny ability to talk to the dead. Norman is an immediately sympathetic figure because nobody believes in his special ability and the small town society he lives in socially and emotionally rejects him due to this, especially his parents. However, as the story picks up things become significantly less interesting (Norman's ability never ends up having any significant bearing on the plot). The two biggest problems stem from two sources: the characters and tone. The characters are in short: boring and painfully one-dimensional. Even Norman himself goes underdeveloped, almost as if the script was way more interested in giving screen time to the supporting cast. Speaking of the supporting characters, most of them are forgettable archetypes (the fat geek kid, the jock bully, the blond girl) that mostly exist to tell jokes and nothing else. This leads to the next crippling prevalent issue, a good majority of the humor in this film fall completely flat due to inept comedic timing or being lame cliché jokes that have been used in so many other past films. The whole affair also feels tonally confused, with the horror and family film elements not nearly as well balanced as they were in "Coraline". The main threat in this film consists of resurrected Puritan zombies and they never end up coming off as a foreboding threat. It's as if the writer's were more interesting in the visual gag possibilities of the zombies rather than establishing them as a credible threat (Heck, it seemed like even without Norman the zombies would have been easily defeated by the town's people). On one end, kids may get a kick at some of the jokes but meanwhile adults will most likely be bored with the overly simplistic drawn-out narrative and half-baked horror elements. Once again, it's not like the film was completely unsalvageable. There is a third-act plot twist that is actually legitimately heart-breaking and leads to by far the best scene in the entire movie (at least the most emotionally charged section that was thankfully devoid of forced jokes). It also leads to an admirable life lesson about accepting others and dashes of slightly daring social commentary (at least, for a kids film) regarding society's treatment of outsiders. It's just a shame that the sequence came so late into the film because it only served as a reminder for it's wasted potential. In the end, "Paranorman" serves as an example of a good idea that was terribly executed. Great animation and an interesting premise are buried six feet under a crappy narrative, awful pacing, poorly written humor, and jarring tonal inconsistencies.
Christopher Heim
Super Reviewer
ParaNorman Quotes
| | |
| --- | --- |
| Courtney: | So I was wondering if you want to see a movie sometime? |
| Mitch: | Nah. You would like my boyfriend. He's a total chick flick nut. |
| | |
| --- | --- |
| Mitch: | All you want to do is burn and murder stuff, burn and murder stuff, just burning and murdering. |
| | |
| --- | --- |
| Sandra Babcock: | Not believing in the afterlife is like not believing in astrology. |
| | |
| --- | --- |
| Alvin: | Don't get your bra in a twist, fat boy. This has nothing to do with you, so keep out of my way. |
| Neil: | Or what? |
| Alvin: | Or, uh... I'll punch you in boobs. |
| Alvin: | Or, uh, I'll punch you in boobs. |