Parasite
(1982)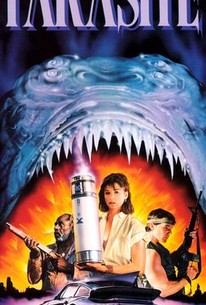 Movie Info
In this gory sci-fi outing, shot and originally released in 3-D, Dr. Paul Dean (Robert Glaudini) is a scientist living in the near future, after America has fallen under the control of a repressive paramilitary regime. Dean's research causes him to absorb an especially voracious parasitic worm, which feeds inside the human stomach until it becomes strong enough to burst out in search of a new host. In time, Dean is able to extract the creature from his body, but soon it escapes from captivity, and Dean and his friend Patricia (Demi Moore) must find a way to stop it as they find themselves on the run from brutal government agent Merchant (James Davidson) and a gang of thugs led by Ricus (Luca Bercovici). Parasite was Demi Moore's second film, shot while she was still a regular on the daytime serial General Hospital.
Critic Reviews for Parasite
Audience Reviews for Parasite
This early Charles Band horror sci-fi kinda reminded me of early John Carpenter films, it does have a charm about it that shines even today. Set in the far future of 1992 where the world has met an atomic disaster and is run by one corporation called 'The Merchants'. They seek to control the riff raff with a deadly parasite which they force one doctor to create, who then goes on the run with it to try and kill it. Same factory line plot about the future and it does look pretty similar to other films with the same idea but the cast  sets it apart. The main role is played by Robert Glaudini who isn't your usual good looking type, he has a face of curiosity, he looks a bit odd, a bit regular and this helps you run with the nonsense. He is helped by Demi Moore in her second screen role before all the money and glitz, which provides a more grounded performance from her. Its all still cheesy as hell by today's standards and it looks trashy of course (apart from the black Lamborghini) but back in the day I reckon it looked quite good...I'm guessing. Another feather in Mr Bands cap is the fact he worked with Stan Winston in this film. Yep the mighty Winston created the parasite in question and probably had a hand in the gory effects also. Naturally this helps the film greatly as the effects and makeup are quite good, not outstanding but solid showing promise. Actually quite a bloody film with some nice gore, plot is old and you can see the 'Alien' rip (which would of influenced allot at the time) a mile off. Overall its not bad and certainly a high point in Mr Band's rollercoaster career which seemed to move into killer doll territory as we all know...for some reason.
Phil Hubbs
Super Reviewer
½
Why are so many modern horror films so cheesy? Honestly, this film is about an experiment that went wrong that produced oversized bacteria WITH TEETH that look more like worms actually than bacteria and whose purpose is obviously to eat people. The acting was crap - nearly by every cast member. Special effects were some of the worst I've ever seen, in particular those involved in explosions and slow-motions. Even some pre-2000 video games have better graphics than that. This is not a horror movie - this is a cheesefest. I only enjoyed the bit when the giant worm thing bit a guy's head off towards the end.
Matthew Ashworth
Super Reviewer
Parasite Quotes
There are no approved quotes yet for this movie.