Parental Guidance
(2012)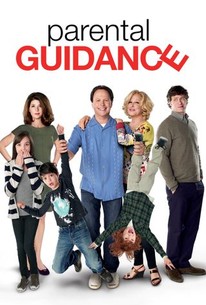 Movie Info
Old school grandfather Artie (Billy Crystal), who is accustomed to calling the shots, meets his match when he and his eager-to-please wife Diane (Bette Midler) agree to babysit their three grandkids when their type-A helicopter parents (Marisa Tomei, Tom Everett Scott) go away for work. But when 21st century problems collide with Artie and Diane's old school methods of tough rules, lots of love and old-fashioned games, it's learning to bend - and not holding your ground - that binds a family together
News & Interviews for Parental Guidance
Critic Reviews for Parental Guidance
Audience Reviews for Parental Guidance
There's some to love, and a lot to dislike about this Billy Crystal-Bette Midler paired comedy. In the positive category we have our two leads, who are comedy legends and all around funny people. The characters deal with really intense problems that stem from a wide variety of issues, and not all of them have easy solutions. That's not a regular staple of modern comedy films, which are happy to create a tidy ending for its schmucks. What many people take issue with is this unrealistic, privileged view of middle class Americans that paints children as spoiled misanthropes, and adults as their enablers. Artie's voice doesn't seem like Crystal's, because everyone knows that the future means embracing technology, and all its benefits. In this reality older people know best and younger people don't know anything. If its depiction of people wasn't so skewed, perhaps the few laughs it actually generated would be better appreciated.
Spencer S.
Super Reviewer
Wasn't quite the suck-fest I pictured, but believe me, my expectations were way down for this one. Found this quite watchable (once, anyhow, wouldn't watch it again). Decent cast lift it a bit too.
Nicki Marie
Super Reviewer
½
Decent, funny comedy, but nothing really special. Billy Crystal was very funny. The philosophy of old school vs, new school parenting had some good laughs, etc. But, it was just really average over all. Pleasant, but not memorable.
Cynthia S.
Super Reviewer
Parental Guidance Quotes
| | |
| --- | --- |
| Artie Decker: | I don't feel welcome here. |
| | |
| --- | --- |
| Diane Decker: | After your kids grow up, your husband is the one who stays. |
| | |
| --- | --- |
| Artie Decker: | Don't call me grandpa, Call me Artie |
| Artie Decker: | Don't call me grandpa, Call me Artie. |
| Barker: | Can I call you Fartie |
| Barker: | Can I call you Fartie? |
| | |
| --- | --- |
| Artie Decker: | I taught them how to shave! Show 'em your legs Boys! |