Parenthood
(1989)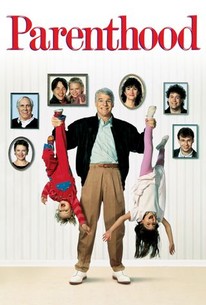 TOMATOMETER
AUDIENCE SCORE
Critic Consensus: Bolstered by a delightful cast, Parenthood is a funny and thoughtfully crafted look at the best and worst moments of family life that resonates broadly.
Movie Info
This feel-good ensemble comedy tracks a quartet of suburban siblings and their families over the course of a single summer. Hardworking Gil Buckman (Steve Martin) and his stay-at-home wife, Karen (Mary Steeenburgen), have just a few months to help their oldest son, Kevin (Jasen Fisher), overcome his high-strung behavior problems before he'll be relegated to special-education classes. Gil's difficult relationship with his own father, Frank (Jason Robards), has led him to become a would-be super-dad for his three kids, so he takes his son's difficulties more than a little personally. Gil's sister, Helen (Dianne Wiest), is trying to raise a moody, adolescent son (Leaf Phoenix) and an independent-minded daughter (Martha Plimpton) with no help from her well-off ex-husband, who's more interested in his new wife and family. Gil and Helen's sister, Susan (Harley Jane Kozak), meanwhile, must participate in the too-scripted Big Life Plans of her anal-retentive husband, Nathan (Rick Moranis), whose overachiever zeal infects even their toddler daughter. When long-lost brother Larry (Tom Hulce) show up with yet another get-rich-quick scheme, he brings with him a surprise addition to the family. Screenwriters Babaloo Mandel, Lowell Ganz, and Ron Howard negotiate their varied subplots with a deftness and comedic touch that transforms this conflicted clan into a suburban everyfamily. ~ Brian J. Dillard, Rovi
Critic Reviews for Parenthood
Audience Reviews for Parenthood
½
Parenthood is a wonderfully written family film, directed by the infinitely brilliant Ron Howard. Now, I don't have any kids myself, but I can bet the farm on the hypothesis that there's a lot of parents out there who can relate to the situations in this story. I remember when I was a teenager and watched this with my mom, and she loved it for its honesty and thought it perfectly encapsulated everything it means to be a parent. Not a single a detail has been overlooked, from the teen boy who just discovers the wonders of sex (resulting in a lot of sneaking around with a paper bag full of porn), or the father who raises his 5-year old daughter to be the next Nobel Prize winner. Every type of family and behavior is flawlessly covered. And as if that wasn't enough to wow us, comical genius Steve Martin gives one of his all-time greatest performances, along with the rest of the cast whom are all stellar as well. One thing I didn't notice until now (by my third viewing or so), is that the previously mentioned adolescent is actually played by Joaquin Phoenix. He's so young in this film, that it had previously escaped me. Keanu Reeves is really fun also, with a character that reminded me a lot of his Bill & Ted days (that is to say, before he got all corpse-like and humorless). By far the best movie Ron Howard has ever made, and that's should be saying a lot, considering he's the mastermind behind such cinematic jewels as Cocoon and Frost/Nixon. From the deepest places in my heart, I love this film to bits. It's hilarious, yet dashed with melancholy and pathos. Wacky and out of control, yet always down-to-earth. Simply put: the greatest film I've ever seen about family life, parenting and the beautiful bonds that ties it altogether. I couldn't possibly give it any higher recommendation. It's just one of those movies you have to see!
½
Julie: He said that he loved me.  Helen: Men say that. They all say that. Then they cum.  "It could happen to you." There's so much great stuff going on in Ron Howard's Parenthood. The movie is a hilarious take on the serious issues that come from the responsibility. It is kind of like the saying, "If you don't laugh, you'll cry." That's how it is with these characters and sometimes they do laugh. Other times they can't and they cry.  There is no true plot in Parenthood, but just different parents from the same family dealing with the daily hassles of parenthood. Steve Martin and Mary Steenburgen play one of these sets of parents. They have three kids and are especially having trouble with one who has to go into special ed classes. Another set of parents are played by Rick Moranis and Ivyann Schwan. They have one daughter and the father is overly into getting her to be as smart as possible. She is 4 years old and he already has her learning foreign languages and memorizing the periodic table. Then there's a single mom played by Diane Wiest, who I normally don't like, but was surprisingly funny here; who has a daughter who just got married and a young son who is separating emotionally from her as a result of his dad leaving. Last, but not least there's the older father, played by Jason Robards. He has a son who is constantly getting in trouble with bookies and he has to decide how to handle it. He also has to atone for being a lousy father to his now adult kids. The cast is crazy good in this movie. So many big names and they are all great. The performance I enjoyed the most was from a preteen Joaquin Phoenix, credited as Leaf Phoenix. He plays Garry, a kid who is emotionally distant from his mother and enraged at his father for leaving him and not caring about him. Phoenix shows the power that he would go on to display for years at such a young age in a scene where he decides he wants to live with his father for awhile. When he makes the call and is disappointed by the answer, Phoenix gives an emotional and powerful side to a character that for the first part of the movie just said Bye and left the room. The movie is oddly touching because it is so hilarious. A few times I had to stop the movie because I was laughing so hard. A lot of the humor comes from just how true the subject matter is. Ron Howard does a great job adding humor to some of the situations. I was very surprised by just how good this movie was. I expected just another Steve Martin vehicle, but this was much, much more then that. Tod: You know, Mrs. Buckman, you need a license to buy a dog, to drive a car - hell, you even need a license to catch a fish. But they'll let any butt-reaming asshole be a father. 
Melvin White
Super Reviewer
Great family film with some fine performances. Full review later.
Thomas Bowler
Super Reviewer
Parenthood Quotes
| | |
| --- | --- |
| Tod: | You know, Mrs. Buckman, you need a license to buy a dog, to drive a car - hell, you even need a license to catch a fish. But they'll let any butt-reaming asshole be a father. |
| | |
| --- | --- |
| Susan: | We're Power-Eating. |
| | |
| --- | --- |
| Screaming Co-ed: | It's Kevin Buckman! |