Paris Blues
(1961)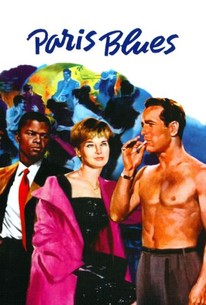 Movie Info
The second film of director Martin Ritt with both Paul Newmanand Sidney Poitier, it's set in a city that has long been a haven for black musicians eager to escape the racism of the U.S. Newman is Ram Bowen, a trombone player who makes his living in a jazz group, which also includes tenor man Eddie Cook (Sidney Poitier), while studying music and aspiring to a career as a "serious" composer. Eddie stays in Paris to bask in the respect that its people feel for his music, a respect rarely accorded him in the States. A pair of tourists, Connie Lampson (Diahann Carroll) and Lillian Corning (Joanne Woodward) arrive in the city for a two-week vacation, and the two musicians lose no time in hooking up. Soon both relationships take a serious turn and the musicians are forced to make some important decisions about the possibility of returning to their native soil. ~ Michael Costello, Rovi
Critic Reviews for Paris Blues
Audience Reviews for Paris Blues
½
Great music, middling drama. Joanne Woodward comes off best.
½
Paul Newman, Sidney Poitier and Louis Armstrong. Score by Duke Ellington, directed by Martin Ritt. Jazz musicians in Paris. This movie sounds amazing and should be astonishing, right? The problem is that its not. The fifth of the movie that actually has to do with jazz gets farted on by how dislikable Newman's character is or how little you care about Joanne Woodward's character. The whole Poitier contrived social consciousness thing where he walked around with Diahann Carrol for half the movie was dull. Not to mention the nonsensical yet predictable ending. But for as much as I bitch about this movie the scenery and photography were great as was any scene with Armstrong.
Michael Gildea
Super Reviewer
Filmed on location in Paris, starring Sidney Poitier as expatriate jazz musician Eddie Cook, and Paul Newman as trombone-playing Ram Bowen. The two men romance two vacationing American tourists, Connie Lampson (Diahann Carroll) and Lillian Corning (Joanne Woodward) respectively. The film also features trumpeter Louis Armstrong as Wild Man Moore and jazz pianist Aaron Bridgers; both play musicians within the film. It was produced by Sam Shaw, directed by Martin Ritt from a screenplay by Walter Bernstein, and with the fantastic black & white cinematography by Christian Matras. A little silly in the screenplay, but climatic and cool as Jazz.
Andre Tavares Simoni
Super Reviewer
Paris Blues Quotes
There are no approved quotes yet for this movie.