Paris Je T'aime
(2007)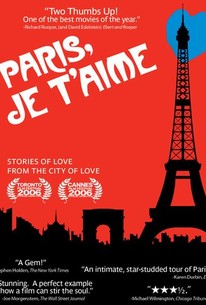 TOMATOMETER
AUDIENCE SCORE
Critic Consensus: Paris Je T'aime is uneven, but there are more than enough delightful moments in this omnibus tribute to the City of Lights to tip the scale in its favor.
Movie Info
Twenty acclaimed filmmakers from around the world look at love in the City of Lights in this omnibus feature. Paris, Je T'Aime features 18 short stories, each set in a different part of Paris and each featuring a different cast and director (two segments were produced by two filmmakers in collaboration). In "Faubourg Saint-Denis," Tom Tykwer directs Natalie Portman as an American actress who is the object of affection for a blind student (Melchior Belson). Christopher Doyle's "Porte de Choisy" follows a salesman (Barbet Schroeder) as he tries to pitch beauty aids in Chinatown. Nick Nolte and Ludivine Sagnier are father and daughter in "Parc Monceau" from Alfonso Cuarón. Animator Sylvain Chomet turns his eye to a pair of living, breathing mimes in "Tour Eiffel." An interracial romance in France is offered by Gurinder Chadha in "Quais de Seine." In "Le Marais" from Gus Van Sant, a man (Gaspard Ulliel) finds himself falling for a handsome gent (Elias McConnell) who works in a print shop. Isabel Coixet tells the tale of a man (Sergio Castellitto) who is making his final choice between his wife (Miranda Richardson) and his lover (Leonor Watling) in "Bastille." Juliette Binoche plays a grieving mother in Nobuhiro Suwa's "Place des Victoires," in which she's greeted by a spectral cowboy (Willem Dafoe). Richard LaGravanese's "Pigalle" finds a long-married man (Bob Hoskins) turning to a prostitute for advice on pleasing his wife (Fanny Ardant). Gérard Depardieu and Frédéric Auburtin direct Gena Rowlands and Ben Gazzara as longtime marrieds meeting for one final pre-divorce encounter in "Quartier Latin." Steve Buscemi learns a lesson about local etiquette in the Paris Metro in "Tuileries" from Joel and Ethan Coen. In "Loin du 16ème" by Walter Salles, a housekeeper (Catalina Sandino Moreno) longs for her own child as she tends to the infant of her wealthy employer. Elijah Wood stars in "Quartier de la Madeleine," a vampire tale from Vincenzo Natali. Wes Craven presents another fantasy in "Père-Lachaise," in which an engaged young man (Rufus Sewell) receives romantic advice from the spirit of Oscar Wilde (Alex Payne). A postal worker from Colorado (Margo Martindale) shares her thoughts on her visit to Paris in mangled French in Alexander Payne's witty "14th Arrondissement." Other segments include "Place des Fêtes" from Oliver Schmitz, Bruno Podalydès' "Montmartre," and "Quartier des Enfants Rouges" by Olivier Assayas, which stars Maggie Gyllenhaal. Paris, Je T'Aime received its world premiere at the 2006 Cannes Film Festival.
News & Interviews for Paris Je T'aime
Critic Reviews for Paris Je T'aime
Audience Reviews for Paris Je T'aime
I thought that Paris Je t'aime was an overrated film that really didn't deserve the praise it has received. I appreciate the artistic merit that the filmmakers tried to accomplish with this film; however the end result is simply a film that lacks any true engaging elements to really make it stand out. The film is mediocre and doesn't satisfy the way it should. I thought the idea behind the film was good, but something simply didn't click. The films various directors and stellar cast can't even save this one from being a dud. This film was a good try at doing something different, but it just wasn't to my liking. I felt that they could have done a lot more with this film, and it leaves a lot to be desired. The idea behind this anthology is interesting, but it really does lack something to really make it stand out. The film has an established cast of very good actors, but they seem unimpressive on-screen. You'd think that a film involving several high profile actors would bring something to the screen that would make the film stand out. Unfortunately, the film falls flat and is an uninteresting effort by some great directors. I for one, don't get the hype surrounding this film, and I thought it was mediocre this film could have been great; unfortunately it wasn't that great with too many imperfections. If each director would have put a bit more effort into the film, then maybe this film would have stood out.
Its fun to watch and shows the talent of multiple directors!
½
It's bumpy at times, with some great shorts and some not so great ones. But it's strength lies in the film as a whole, and all-in-all it was well done.
Idrees Khan
Super Reviewer
Paris Je T'aime Quotes
There are no approved quotes yet for this movie.