Paris, Texas
(1984)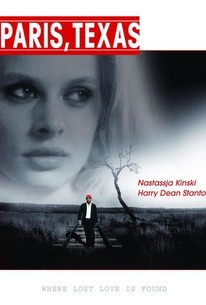 Movie Info
Travis (Harry Dean Stanton) is wandering through the Texas desert, a bit shaky and in desperate need of water, when he stumbles into a bar and collapses. A German doctor of dubious credentials finds a phone number in Travis' wallet, which belongs to his brother, Walt (Dean Stockwell). Walt is shocked to hear about his brother's condition, since no one in the family has seen or heard from Travis in four years; Walt flies to Texas to bring him home, only to find Travis wandering by the side of the road, and they begin the long drive back to Los Angeles, where Walt lives with his wife, Anne (Aurore Clement), and Hunter (Hunter Carson), Travis' seven-year-old son. At first, Travis refuses to speak and is oddly distant, but in time he begins to talk again, and when he arrives in California, he begins the painful process of reacquainting himself with his son and trying to reconcile with his wife, Jane (Nastassia Kinski). ~ Mark Deming, Rovi
Critic Reviews for Paris, Texas
Audience Reviews for Paris, Texas
½
While deceptively simple on the surface, this is a masterful example of screenwriting and storytelling that finds truth and poetry in the mundane and is centered on the kind of quietly nuanced characters that I guess any actor or actress would love to play once in their lives.
Carlos Magalhães
Super Reviewer
A man wordlessly stumbles out of the desert after disappearing without a trace four years previously and sets about reclaiming his lost family. Harry Dean Stanton is one of those faces that everyone knows without knowing they know; a remarkable character actor who took very few lead roles. His wonderfully understated performance is the centrepiece to Wim Wenders' road movie dealing with love and loss that's chock full of beautiful imagery. In fact it's a little ironic that it took a German to capture so completely the "feel" of middle America but this piece of audio-visual poetry is one of the purest examples of mainstream cinema as an art form. No-one could fail to be captivated by his scenes with estranged wife Nastassja Kinski whose first appearance on screen has become an iconic image. Its ponderous pace and lengthy running time will not appeal to those looking for action or melodrama, but Paris, Texas is more an experience than a piece of entertainment and if approached as such is rather unforgettable.
Eyes glued to the screen from beginning to end. Plus my favorite score of all time, provided by Ry Cooder, interpreting Dark Was The Night by Blind Willie Johnson.
Graham Jones
Super Reviewer
Paris, Texas Quotes
| | |
| --- | --- |
| Hunter: | "What's that?" |
| Hunter: | What's that? |
| Travis: | A vacant lot "A vacant lot, I bought that land when we were all together, with your mom." "I thought we might live there someday." |
| Travis: | A vacant lot. A vacant lot, I bought that land when we were all together, with your mom. I thought we might live there someday. |
| Hunter: | "Where?" |
| Hunter: | Where? |
| Travis: | "Paris.......Texas." |
| Travis: | Paris...Texas. |