Parker
(2013)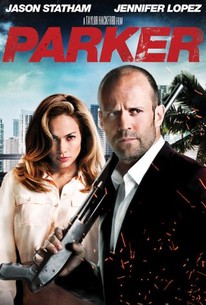 Movie Info
Set amidst the unparalleled wealth and glamor of Palm Beach, Jason Statham and Jennifer Lopez team up to get their cut in the crime thriller PARKER based on the series of bestselling novels by Donald E. Westlake. The film is directed by Academy Award (R) nominee Taylor Hackford (Ray) and also stars Michael Chiklis, Wendell Pierce (HBO's The Wire) and Academy Award nominee Nick Nolte. (c) Film District
Critic Reviews for Parker
Audience Reviews for Parker
Parker is one of those films that look great on paper, but when it was put to celluloid, it simply didn't deliver. What we have here is a film that lacks in what it tries to do. The film is poorly constructed and the result is a mediocre movie that ends up being tiresome instead of entertaining and memorable. I really wanted to enjoy the film, but I felt that some members of the cast, especially Jennifer Lopez, who shouldn't act in the first place, brought the film down. Mix that with an undeveloped script and the result is a pointless action film that fails. What really is a shame is that, if given the write director, and a few rewrites, the film might have had a chance. However, that was not to be, and the finished film is just a boring action film with poor performances and in the long run, it's a forgettable affair that isn't worth your time. If you're expecting a good, entertaining film, you won't find it here. This film should have been good, and it could have, but it's a mediocre film, which just doesn't cut it. I love a good, mindless action yarn, but Parker tries far too hard at exceeding its limitations, and it comes up empty handed due to the lacking material that is given to the actors. One way to have improved on the film would have been to cast someone else in Lopez's role, and like I said, rewrite the script a bit so that everything would have had a nice flow, and in would have been a nicely thought out action film that would be entertaining from start to finish, instead of the poorly made mess that ends up being a not so satisfying film.
Good movie for Jason Statham lovers like me. He is just so cool that even when the action gets implausible, you just shrug it off. It's pretty much Statham's show beginning to end, and he's the best thing going in the action genre these days...and he is nice to look at, too. :)
Cynthia S.
Super Reviewer
½
Taylor Hackford decided to change things up and try his hand at a noir-ish crime thriller...and he really changes it up by casting Jason Statham and Jennifer Lopez. Oh boy, this is an odd mix. Is it honorable that he tried to do something different? Yeah. Unfortunately, this is a largely unremarkable thriller, and rather typical of Statham's recent output. Based on one of the Richard Stark (Donald E. Westlake) "Parker" novels, we get a typical story of a thief who is betrayed and left for dead following a heist, recovers, then decides to go out for revenge. This is as typical as it gets. At least it avoids having Statham hook up with Lopez. That was a nice touch. It's just a shame that the film is so uneven, especially with the tone. I appreciate a bit of humor with my action, but it doesn't really seem to gel that well here. Though, to her credit, Lopez is tolerable, and did sometimes get me to legitimately smile. I was also surprised, in a good way, by the level of violence here. I mean yeah, I knew it was to be rated R, but it was more graphic and brutal at times than I was expecting...and I'm actually okay with that. The film is watchable, and is pretty slick, and all that, but it feels far longer than it should be, and just kind of coasts along. Statham is fine, though pretty much doing more of what he always does. Like I said, Lopez is kinda funny, but it sticks out in a bad way. Chiklis is okay, but underused. Heck, all the main thugs are, which sucks considering that two of them are played by Clifton Collins, Jr. and Wendell Pierce. It also sucks that they wasted Bobby Cannavale. All in all, this isn't a totally terrible film, but it is unfortunately just a routine and rather ho-hum thriller. See it if you want, but it's totally fine if you don't.
Chris Weber
Super Reviewer
Parker Quotes
| | |
| --- | --- |
| Leslie Rodgers: | Well, it's large and black, Jake. Where do you think I like it? |
| | |
| --- | --- |
| Parker: | It's not about the money, It's about the principle. |
| Parker: | It's not about the money, it's about the principle. |
| | |
| --- | --- |
| Leslie Rodgers: | "It's just bills." |
| Leslie Rodgers: | It's just bills. |
| | |
| --- | --- |
| Parker: | When I say I'll going to do something I always follow through... always. |