Parkland
(2013)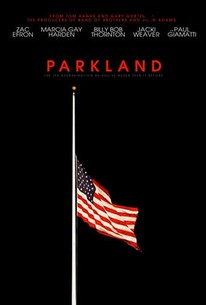 TOMATOMETER
AUDIENCE SCORE
Critic Consensus: Although its decision to look at John F. Kennedy's assassination through uncommon perspectives is refreshing, Parkland never achieves the narrative cohesion its subject deserves.
Movie Info
PARKLAND recounts the chaotic events that occurred in Dallas, Texas on November 22, 1963, the day President John F. Kennedy was assassinated. Written and directed by Peter Landesman and produced by Playtone partners Tom Hanks and Gary Goetzman, Bill Paxton and Exclusive Media's Nigel Sinclair and Matt Jackson, PARKLAND is the ferocious, heart-stopping and powerful true story never told of the people behind the scenes of one of the most scrutinized events in history. (c) Exclusive Releasing
News & Interviews for Parkland
Critic Reviews for Parkland
Audience Reviews for Parkland
Based on Vincent Bugliosi's book, Four Days in November, the film Parkland chronicles the events following the assassination of JFK. What I liked about this film was how it tells a part of the story that isn't widely known. From the doctors at the hospital, working on the President, to the acquisition of the Zapruder film, Parkland goes behind the scenes to tell the untold story. I was also impressed with how the film managed to stick to the facts and not dwell on any of the conspiracy theories that surround the case. Zac Efron stars and really wasn't all that great. I think that Efron needs to stick to what he does best, taking his cloths off and making people laugh. While the film is kind of slow, I really enjoyed Paul Giamatti's portrayal of Abraham Zapruder, the man who filmed the assassination. Zapruder really struggled with releasing the tape to the media and the events he witnessed ultimately destroyed his life. Giamatti's portrayal of the man is supposedly spot on and truly deserves an honor mention. Parkland gives us a lot of new information about the events that followed the assassination of President Kennedy, but a lot of it are things the general public really aren't that interested in learning about. For a Kennedy aficionado, this film must of been eye opening, as for the rest of us, it was an interesting, non-bias view of history, albeit a little boring.
Todd Smith
Super Reviewer
Based on the book from Vincent Bugliosi. A really great writer, by the way. This story was very insightful. It depicts all that happened following the shooting of President Kennedy, and the actions that the Secret Service took that led to many of the conspiracy theories still around today. Great, solid performances caused me to get emotional at times. I thought Paul Giamatti stood above the rest with his great portrayal, and acting. I didn't realize until the end that Tom Hanks, and Bill Paxton, were producers on this film. Nice job done by all!
Cynthia S.
Super Reviewer
I left feeling unsure about what the goal of this movie was. I've seen better documentaries on TV which went much more in depth with the material. Yet being a factual reenactment, they couldn't exactly give much in the way of twists either; the viewer already knows what's going to happen. So it's either a kind of shallow documentary or the world's most predictable drama. As other reviewers have noted, the film tries to follow several different individuals and does a pretty poor job developing any of them to a meaningful extent. It starts pretty much out of the gate with the big event, so we don't learn anyone's background, nor does it follow them more than a few days beyond the tragedy. So again, all extremely predictable to anyone who has read a book or watched a decent documentary on the topic. 2 Stars. 12-10-13
Bruce Bruce
Super Reviewer