The Parole Officer
(2001)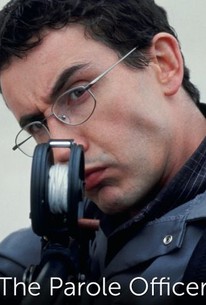 The Parole Officer Photos
Movie Info
British television comic Steve Coogan made his first bid for a big-screen career in this comedy, in which he plays Simon Garden, a singularly inept parole officer who has not had terribly good luck with his clients -- after many years on the job, only three of the former prisoners he's been looking after have avoided returning to a life of crime. Garden is transferred from his post in Blackpool to a new assignment in Manchester, and it isn't long before he finds himself in hot water. Garden happened to be on hand when Burton (Stephen Dellane), a crooked cop, murdered a drug dealer with whom he had been involved in a cocaine deal. Realizing he's in trouble, Burton rearranges the evidence so that Garden looks like the killer. A surveillance camera captured Burton's crime on tape, and now Garden must get his hands on the tape in order to clear his name. However, Burton has cleverly stashed the tape in a top security bank vault to keep it away from Garden, so the parole officer must stage a break-in to collect the evidence -- and he chooses as his accomplices George (Om Puri), Jeff (Steven Waddington), and Colin (Ben Miller), the three parolees who've stayed out of trouble until now. The Parole Officer also features Emma Williams as a former associate of Burton's who ends up helping out Garden, and cameos from Omar Sharif and Jenny Agutter.
Critic Reviews for The Parole Officer
Audience Reviews for The Parole Officer
½
Not sure whether to give this film 2.5 or 3 stars. It certainly features one of Britain's best comedic actors, Steve Coogan, who also helped write the film, and he certainly helps make the film better than it would've been otherwise. On the other hand, the film has some very Americanized attempts at broad humor. The roller coaster scene, for one, wouldn't have felt out of place in an Adam Sandler movie, but in a British comedy it does. Not to say that Britain doesn't have its Adam Sandler-like comedians, who don't really put forth an effort when it comes to their films. They just do what the lowest common denominator wants, dick and fart jokes. Most British humor is more sophisticated than that, it is cleverly written and beautifully delivered by its actors. Hell, as an example of this, this film has a small 20-second cameo, from Simon Pegg, pre-Shaun of The Dead and only known to fans of Spaced by this point, and his appearance was a highlight of the film. He's funny without saying absolutely anything, just using his facials expression to tell his character's 'story'. I don't even know how, or why, I got into this rant. Long story short is that this film has some attempts at broad humor, and slapstick, that don't really work with some of the same things the film does well, like its main character quick-witted delivery and some really good dialogue. The film is amateurishly shot and directed, the cinematography isn't particularly outstanding. The poster itself looks like it was done for less than $20. Not that that has any relevance on how the film turned out, but it's clear this film didn't really have the biggest budget to get the best director, and cinematographer, possible. With that said, I'd say this film was fun. The story is goofy, it has no pretentious of grandeur and that's always a positive in my book. If it was pretending to be something it wasn't, like the next coming of Monty Python, then it'd be easy to point and laugh at the absurdity of the film trying to achieve that standard of greatness. But it doesn't, and that makes the film far easier, and fun, to watch even if it's not a perfect, or even good, film. Yes, you can have fun with a film that you find average overall. This is taking everything into consideration from writing, acting, directing, cinematography, score, etc. So I wouldn't say it's a good film, so therefore I can't really recommend it, I enjoyed myself watching this film. It's 90 minutes of pure silliness, with some moments of greatness here and there.
Jesse Ortega
Super Reviewer
i like it this is a proper british comedy steve coogan is the parole officer and needs to break into a bank to retrieve the tape that proves a curupt cop murder a bloke but the only people helping him are idiots but along with some help is emma (lena headey) who ends up liking him in a more personannal level but its good and funny!
Film Crazy
Super Reviewer
½
It's got a few funny moments - But overall nothing special.
The Parole Officer Quotes
| | |
| --- | --- |
| Detective-Inspector Burton: | I won't lay a finger on you. But you'll go to prison. And when those nonces and those perverts get hold of a clever boy like you - and I'll make sure they do - they'll be queueing up round the block. You're going to end up with an arsehole like a clown's pocket. |