Party Monster
(2003)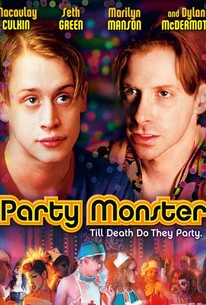 Movie Info
Set in the New York club scene of the late 1980's thru the 1990's, a tale which chronicles the rise and fall of "club-kid" promoter Michael Alig, a party organizer, whose extravagant life was sent spiraling downward when he boasted on television that he had killed his "friend", roommate, and drug dealer, Angel Melendez. Originally from Indiana, Alig moved to New York, and came to be an underground legend, known for his excessive drug use and outrageous behavior in the club world. At his peak, he had his own record label, and magazine, and hosted Disco 2000, one of the biggest club nights in New York in the '90s. He was doing a lot of drugs, and as his addiction got worse, his party themes became darker and more twisted. Alig's saga reached its tragic crescendo when he viciously murdered his drug dealer, Angel, by injecting him with Drano and throwing him in the East River. The power he wielded on the club scene made him feel untouchable, so he didn't hesitate to boast of the murder. The press thought it was a publicity stunt--until Angel's body washed ashore.
Critic Reviews for Party Monster
Audience Reviews for Party Monster
Like a car wreck, it's hard to stop watching this freakish movie. Macaulay Culkin - like you've never seen him before. Great music! Seth Green is hilarious too. Great costumes! It shows the damage which drugs can do to the lives of the party-kids who use them. It's a fun but wasted lifestyle. Stupidity has its consequences. There was much frivolous gaeity, but no acts of homosexuality are shown. Great stuff for a low-budget film! A classic on my list.

Favorite Scene: When the Rat explains to Seth Green what really happened; accompanied by pounding techno music.
Lafe Fredbjornson
Super Reviewer
½
The main word that truly describes this film is gross. Everything about this film is off-putting, over-the-top, and frightfully grotesque. This ranges from the digital format and lack of cinematography to the animatronic performances from the cast. The first thing that you're hit with is the bothersome way both Alig (Culkin) and St. James (Green) are represented in the film. Both of them have airy, worthless personalities, and are shown as dramatic homosexuals at every turn. Their costumes, makeup, and love for the disgusting and dramatic isn't indicative of this assessment, but the personalities of Alig and St. James are non-existent except for catty remarks. Culkin flies through the entire film without really showing who Alig was. Though he becomes drug addled, star struck, and obviously malicious in the way he grapples to the top of the food chain, there isn't any base for where his motivations come from. He hinders the plot at most times by being petty and doesn't like to be vulnerable, yet we as the audience aren't sure where that weakness stems from. St. James and Alig's relationship is mostly impeded by their own pride and haughty attitudes towards each other, and while they pretend to be calculating and mean, they come off as trashy drag queens throughout. The party atmosphere of the eighties and nineties was represented in costuming and club scenes, but because of the shoddy way they shot this film there's no real setting. You get a general understanding of how Alig operated, why he was paid such large sums of money, and why he rose to prominence, but his actual reach throughout the club scene was not shown. This film needed to be bigger in order to truly tell this story. The costumes were very ingenious and interesting, but because of the lack of cinematography they looked like homemade Halloween costumes. The end of the film really baffles, because it neither explains what really happened to Alig and St. James (who are real people) or why we should care. It's a very convoluted and annoying kind of film, and felt longer than it actually was. This film does not reflect what it was trying to say, and the people trying to say it weren't all that talented to begin with.
Spencer S.
Super Reviewer
½
Based on the true life story of infamous "club kid" Micahel Alig, this film saw Macaulay Culkin return to films after a long absence, ready to put his child star image to rest. In that regard, this is a successful film, and his performance is quite good. The other performances aren't too shabby either, and the cast has lots of recognizables in it, including a small appearance by a delightfully nutty Marilyn Manson. As a bio pic, this is some fairly standard stuff, and not all that remarkable. The film has a nice visual style, and the costumes and makeup are pretty top notch. Had things not been quite so by the numbers, this would be a far better film. As it stands though, this is a decent, but largely unremarkable film, saved mostly by the performances, which is the primary reason you should give it a watch.
Chris Weber
Super Reviewer
Party Monster Quotes
| | |
| --- | --- |
| Michael Alig: | "I wont do crack without heroin" |
| Michael Alig: | I wont do crack without heroin. |
| | |
| --- | --- |
| James St. James: | I'm not addicted to drugs, I'm addicted to glamour. |
| James St. James: | I'm not addicted to drugs, I'm addicted to glamour. |
| | |
| --- | --- |
| Christina: | How do you like my UFO? |
| | |
| --- | --- |
| Michael Alig: | [singing] Greetings, citizens. We are living in the age where the pursuit of all values other than money, success, fame and glamour, has either been discredited or destroyed. Money, success, fame, glamour. |
| Michael Alig: | [singing] Greetings, citizens. We are living in the age where the pursuit of all values other than money, success, fame and glamour, has either been discredited or destroyed. Money, success, fame, glamour. |