A Tree of Palme (Parumu no Ki)
(2002)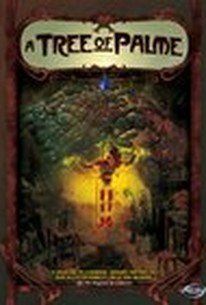 A Tree of Palme (Parumu no Ki) Photos
Movie Info
A futuristic take on the age-old tale of Pinnocchio, A Tree of Palme tells the tale of a wooden robot who longs to become human. Created by ageing Dr. Foe in order to care for his ailing wife, Xian, Palme slowly begins to learn about the human soul and the power of love. Despite the well-intending robot's best efforts, Xian eventually dies of a heart attack and Palme becomes sullen and withdrawn. A passing female warrior later gives Foe a magical bowl from the land of God on the agreement that he will transport it to the underground city of Tamas, and though the old man promises to fulfill her wishes, he is subsequently slain by one of Koram's adversaries. Requesting that Palme fulfill the mission as death approaches, the nurturing robot must now leave the comfort of his home and embark on a journey that will teach him the true meaning of humanity and the human spirit. ~ Jason Buchanan, Rovi
Critic Reviews for A Tree of Palme (Parumu no Ki)
Audience Reviews for A Tree of Palme (Parumu no Ki)
½
Having served as a key animator for anime classics such as Nausicaa of the Valley of the Wind, Macross: Do You Remember Love?, and Akira; Takashi Nakamura more than proves himself in having a great directorial eye. One aspect of TOP that cannot be denied is the gorgeous art direction and fluent animation. It borrows the post-apocalyptic wasteland's of Nausicaa along with a mix of steampunk and cyber punk aesthetics (Akira) to create something truly mesmerizingly unique. Seriously, every frame of this movie could make a beautiful painting. I can't find the budget for this but I cannot imagine this was a cheap movie to make. I also have to give the movie credit for never lacking ambition with it's multitude of diverse characters and tackling mature subject matter regarding the human condition. Don't let the cutesy character designs fool you, this movie goes to almost David Lynch levels of messed up at times. However, at it's center it's a pretty sweet and touching romance tale that left me quite moved by the end. But ambition can also be a double-edged sword. Supposedly this was initially meant to be a TV show and it shows in the final project. Despite being quite long by animation standards (over 2 hours), the frenetic pacing and jumpy plotting gives me the impression that some scenes were left un-animated. For stretches the movie is moving a leisurely Tarkovsky-like pace only to then be broken up by jarring jump-fowards in the plot (Ex. the transition from the orphan's house burning down to the boat trip). The movie also falls into the trap that David Lynch's Dune adaptation fell into in which a lot of esoteric fantasy-laiden jargon is thrown at the viewer with little context provided. While I feel I got enough of the complicated plot to understand on a basic level, some plot details and character motivations remain a bit baffling. I feel if this movie were maybe 20-30 minutes longer, then we could have had more coherent world-building along with getting to know some of the supporting cast better. By being longer, the overall pacing and story would have been ironed out, leaving the viewer spending less time trying to figure out what is going on. I won't deny that this movie is a mess....but it is....a beautiful mess and despite my problems I will still watch it again due to it's intoxicating art direction, touching romance story and Takashi Harada's soulful music score.
Christopher Heim
Super Reviewer
½
I'm not one to watch much Japanese animation anymore, but this one stands out amongst the flood of cookie cutter stuff that typifies what is popular these days. A Tree of Palme stirred in the brains of its creator Takashi Nakamura for 7 years before he got the chance to make it, and the world he imagined is a dazzling multi-layered microcosm. If you're a fan of fantasy films, and animation in general, you'll find plenty to enjoy in this riff on Pinocchio. The films makes no effort to disguise its connection to Pinocchio; the protagonist Palme is a wooden robot that goes on a journey of self discovery, slowly becoming more human during his travels with a ragtag group of orphans. At the beginning of the film he appears to be malfunctioning, but we learn his catatonic state is the result of losing his "mother", the woman he was built to care for. When a hunted stranger from another land disrupts his unremarkable existence with a powerful secret, he has no choice but to set out into the unknown world. Words alone won't do this film justice, at least when it comes to the spectacular art direction; the film is worth seeing just for the background artwork alone. The original character designs, none of which resemble the now tiresome anime traditions, are a definite breath of fresh air. And the music, which favors the eerie whistle of the ondes Martenot (similar in sound to a theremin), adds a whole other dimension to the already bizarre atmosphere. The main issue with this film is its plot and pacing which are confusing and slow in parts, respectively. It seems to me that after such a long gestation, the characters and world of A Tree of Palme would have been better served in a television series. Due to the inherent time limitations some of the story moves a little too quickly and without the necessary exposition for it to all make sense. And despite being advertised as a family film, the story has quite a dark undertone throughout, and ultimately leaves the viewer with a sense of fragility and loneliness. All of these qualities make it quite an unusual and thought-provoking film that rewards the patient viewer. This review is a repost from my site: http://www.plasticpals.com
Robotbling -
Super Reviewer
A Tree of Palme (Parumu no Ki) Quotes
There are no approved quotes yet for this movie.