Passage to Marseille
(1944)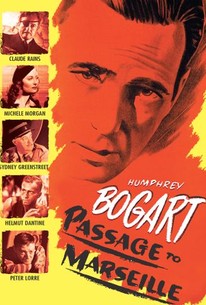 AUDIENCE SCORE
Critic Consensus: No consensus yet.
Passage to Marseille Photos
Movie Info
Designed as a followup to the enormously successful Casablanca, Passage to Marseille utilizes the talents of many of the on- and off-screen personnel of the earlier Warner Bros. classic. Unfolded in a complex flashback-within-flashback structure, this is the story of Matrac (Humphrey Bogart), a freedom-loving French journalist who sacrifices his happiness and security to battle Nazi tyrrany. The film opens as French liason officer Freycinet (Claude Rains), stationed in London, tells Mantrac's story to a British reporter (John Loder). Freycinet reveals that Mantrac, happily married to Paula (Michele Morgan), was framed by pro-fascists and sentenced to Devil's Island. Here he engineered a daring escape with such lost souls as Marius (Peter Lorre), Garou (Helmut Dantine), Petit (George Tobias) and Renault (Philip Dorn). Adrift in a lifeboat, the escapees were picked up by a French vessel commandeered by pro-fascist Major Duval (Sydney Greenstreet). With the help of Mantrac and the prisoners, the ship's patriotic captain (Victor Francen) thwarted Duval's evil machinations, enabling Mantrac to continue his battle against Nazism as a member of the RAF. By modern standards, Passage to Marseille is overproduced, overdirected, overacted and overscored (by Max Steiner); however, it filled a definite need in wartime America, and proved a huge financial success.
Critic Reviews for Passage to Marseille
Audience Reviews for Passage to Marseille
curtiz reunites with 4 cast members from casablanca and the result is an excellent one. although the scope of this war film might have been a bit too small, the film had intrigue and solid performances as well as a great story. wonderful film.
Passage to Marseille Quotes
There are no approved quotes yet for this movie.