Passenger 57
(1992)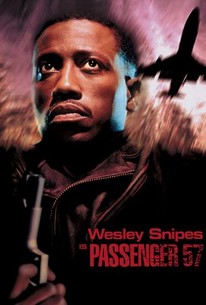 Movie Info
High-flying tension abounds in this suspenseful aerial actioner that centers on the cat-and-mouse game that begins between a high-jacker and an expert in anti-terrorist tactics. It begins as burned-out John Cutter (Wesley Snipes), a security expert, boards an L.A.-bound plane in Orlando, Florida. He has just quit his job and has no idea that a crazed and desperate terrorist (Martin Payne) is among the passengers.
Critic Reviews for Passenger 57
Audience Reviews for Passenger 57
The film that turned Snipes from a drama/comedy actor into a fully fledged action hero, at the same time securing his place alongside other action icons in the action man hall of fame. Man this is so damn cheesy you'd think it was an old early 90's...oh. This is what you might call a thoroughly standard yet thoroughly enjoyably predictable action romp. Its not suppose to be anything overly realistic or overly serious, its pure and utter popcorn trash that spewed out over and over during the 80's and early 90's. A good comparison today would be the new films 'White House Down' and 'Olympus Has Fallen'. The plot is very bog standard, text book action formula. Master terrorist Charles Rane (Bruce Payne...hey that rhymes!) is being transported in an airliner to LA to stand trial. Along the way his evil henchmen and woman (Elizabeth Hurley folks! yep I forgot about that too) seize control of the plane, free Rane and begin their plan to...actually I'm not sure, escape somewhere I presume. Its now up to Snipes to kickbox his way through all the bad guys and save the day. Is it REALLY a spoiler if I tell you he manages this? didn't think so. Yep from here on the film takes all the usual routes you would expect, admittedly there is a small surprise when the plane lands and the action spills out into a fairground but that kinda dampens the thrills for me. In all honestly 'Executive Decision' did this much much better years later in 1996, but that film didn't have the growling face of thunder that is Bruce Payne. This guy steals the show every time, even in B-movie trash he can make turds shine. Not only is his hair a fantastic mullet of epic 80's proportions but he just has that face, that evil devilish smirk and those sly eyes, plus he kinda looks like Matthew McConaughey. Snipes is also solid but doesn't really add much to his character that we haven't see over and over ever since. But he's buff, likeable and for the time a breath of fresh air, plus he could do martial arts which was different to the regular action heroes. Just from looking at the films poster you know what to expect here straight away. Its classic 'Die Hard' type fluff which is great fun if totally lacking in any real substance. Payne saves the film from drudgery and his character dies in the most predictable and obvious way...you know how, they're all in a plane for gods sake.
Phil Hubbs
Super Reviewer
Passenger 57 is one of those films that might have looked good on paper, but on-screen doesn't work whatsoever. This film suffers from a poorly written script that even though has an interesting premise for its plot really leaves you wanting more out of the film. The film ends up feeling like a tiresome, mishmash of poorly constructed action scenes that has no real payoff. Acting wise, this film suffers majorly and there are no standout performances aside from Bruce Payne. Wesley Snipers is a horrible actor and he doesn't have any screen presence that makes you interested in seeing the film. I hated the film, and it just felt like a cheesy, pointless and awfully stitched together mess of a picture that simply was forgettable. This could have been a great film, unfortunately due to a poor script, and bad directing, not to mention a forgettable cast, it ends up being a bad action film that just tries too hard at ripping off Die Hard, which was a far superior film. If you want a well executed action film, you won't find it here. The film had so much potential in being a good flick; you just want to guess what it could have been. Director Kevin Hooks is a poorly skilled director and with this train wreck, you can clearly see why. Watch something different, you'll be glad you did. Passenger 57 is one of the worst action films that I had the misfortune to watch. A poorly made film that stalled right from the start. Definitely a film not worth seeing, and with that said, I'm not even sure why Wesley Snipes became a big action star, the guy is plainly horrible and talentless and his only good film was Major League.
½
Very typical of the 90's Action films, way over the top with lots of expensive things being blown up and everybody getting an ass-kicking. Corny, predictable and a disappointing re-visit to a film that was better off having just been watched at it's release.
Lady D'arbanville
Super Reviewer