Passenger Side
(2010)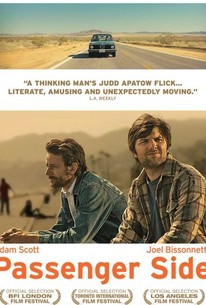 Movie Info
Brothers, Tobey and Michael (Adam Scott) unexpectedly embark on a wacky adventure in a beat-up BMW to find the love of Tobey's life. The road, filled with odd places and characters entwines these fraternally opposite brothers in absurdly hilarious exchanges on their views of the world. As the brothers begin to discover their lives, as "passengers of life," they realize they've been kept at arms length for far too long until life's amazing forces culminate in a mind-blowing twist of fate. -- (C) Strand Releasing
Critic Reviews for Passenger Side
Audience Reviews for Passenger Side
The idea nugget for this film is good - two brothers at different stages in life due to circumstances bond on a driving trip around L.A. Too bad the audience has little reason to care. I shrugged after this film. What was the point?
John Ballantine
Super Reviewer
½
Basing the entire film around Scottâ(TM)s trademarked cynicism creates a genuine Indy classic worthy of mainstream status. The fact that Adam Scott has not made more of a stir in the commercial film world is mind boggling, but to have a star like Scott floating around in the Indy world is a refreshing new experience in many Indy films including his huge success in The Vicious Kind.
Christopher Haskell
Super Reviewer
Cast: Adam Scott, Joel Bissonnette, Robin Tunney, Gale Harold, Greg Dulli, Rachael Santhon, Kimberly Huie, Maja Miletich, Penelope Allen, Vitta Quinn Director: Matt Bissonette Summary: Michael (Adam Scott) reluctantly agrees to chauffeur his estranged addict brother, Tobey (Joel Bissonnette), around Los Angeles to run errands after his car breaks down -- even though Tobey calls out of the blue, unaware it's Michael's birthday. As the day finds them revisiting old issues and lost loves, the two brothers learn some unexpected lessons about family -- and each other -- in this indie drama. My Thoughts: "It's an simple Indie film. No action, no thrills, and not much of anything goig on that's exciting in this film. It's just two brothers on a road-trip around L.A. in search for Theresa, the love of Tobey's life. What you also get are two brothers bantering back and forth and some very interesting encounters along the way. It is a funny film if you like sarcasm and odd characters. Not the best road-trip/Indie film, but not a bad one either."
♥˩ƳИИ ƜѲѲƉƧ♥
Super Reviewer
Passenger Side Quotes
There are no approved quotes yet for this movie.