Passion Fish
(1992)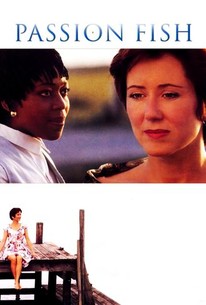 Movie Info
John Sayles' immediate and unsentimental tale of growing respect and affection between a paraplegic and her straight-talking nurse stars Mary McDonnell as soap-opera actress Mary-Alice Culhane. After an automobile accident, she discovers herself paralyzed in a hospital bed. Sinking into depression, Mary-Alice rages against the other patients and the medical staff. Eager to be rid of her, the doctors allow her to leave the hospital and return to her girlhood home in the Louisiana bayou. Back home, Mary-Alice frightens off a succession of home-care nurses until a young black woman named Chantelle (Alfre Woodard) arrives to give the job a try. Chantelle is as strong-willed as Mary-Alice, and they constantly clash until Mary-Alice begins to soften a bit. Chantelle then discovers Mary-Alice is a recovering drug addict. Since Mary-Alice has sunken into alcoholism under the weight of her paralysis, they form a common link that binds them together. When visitors begin to come around -- particularly Rennie (David Straithairn) for Mary-Alice and local cowboy Sugar LeDoux (Vondie Curtis-Hall) for Chantelle -- the women realize they must learn to overcome their distrust of people and give a little of themselves to get a bit closer.
Critic Reviews for Passion Fish
Audience Reviews for Passion Fish
More for the ladies I think. Not that I don't appreciate a good film made for women but I found I couldn't relate terribly well with the characters.
John Ballantine
Super Reviewer
I really DIDN'T think I was going to like this film, and I ended up REALLY liking it. And if I ever audition for anything, I'm totally using the "I didn't ask for the anal probe" monologue too.
Ken Stachnik
Super Reviewer
Its remarkable that a film about a recently crippled woman, who returns to her Louisiana hometown, and is subsequently cared for by a black woman who was a former drug addict never even comes close to being cheesy or feel like a one of those stupid lifetime movies. I owe that to John Sayles who allows the characters to drive the story. Mary McDonnell is one of the most underrated actresses alive and she gives a brilliant performance as the former Soap star who now must cope with life as a paraplegic. Alfre Woodard, who is ironically known for doing a lot of Hallmark movies, is surprisingly restrained as the nurse. The film hardly ever enters cliche' territory. What I really loved was at the end, both characters have grown considerably, but neither one has any real clue about the future.
Alec Barniskis
Super Reviewer
Passion Fish Quotes
There are no approved quotes yet for this movie.