Passport to Pimlico
(1949)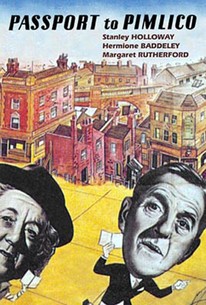 Passport to Pimlico Photos
Movie Info
Passport to Pimlico is one of the most charmingly whimsical Ealing Studios comedies of the late 1940s-early 1950s. As a result of wartime bombing, an ancient parchment is uncovered, proving that the Pimlico section of London belongs to Burgundy, France. Long taken for granted by other Londoners, the tiny Pimlico populace decides to take advantage of its "foreign" status.
Critic Reviews for Passport to Pimlico
Audience Reviews for Passport to Pimlico
½
"Passport to Pimlico" starts innocently enough on a sweltering day in London, or as innocently as it can with an unexploded bomb in the vicinity. That's okay because the authorities have decided to leave it alone for now. And then having a bit of fun, a bunch of boys accidentally set it off, with thankfully no injuries. At least, until Arthur Pemberton(Stanley Holloway), a shopkeeper, stumbles down the hole to get a closer look and thinks he sees treasure. That is confirmed later when he and his daughter Shirley(Barbara Murray) have a closer look. They get even more information when Professor Hatton-Jones(the always delightful Margaret Rutherford) testifies at the inquest including one big surprise. "Passport to Pimlico" is a funny bit of nonsense, albeit one that has some grounding in reality, from its slow start in the reality of post-war London(the movie is actually dedicated to ration books) to historical discoveries lying just underneath the ground.(Considering they just discovered the remains of Richard III, anything is possible, right?) And as much as it may feel like the movie is getting out of hand later, it is grounded in a remarkably astute Cold War satire that is still relevant today, as it possibly foresees free trade zones. After all, what can be sillier than borders that keep people apart?
I found the film a little dated and not as skillfully shot as later classic Ealing films but I enjoyed the central idea around the film and the lengths the members of Pimlico go to in order to make a stand against England. Maybe not as 'funny' as other well known Ealing films (The Lavender Hill Mob and Kind Hearts and Coronets for example) this is still an enjoyable British film made long before Richard Curtis started churning them out.
David Sayers
Super Reviewer
When it comes to Brit movies I prefer ones from the 60s but this was actually alright and better than I expected. Margaret Rutherford was rather funny too.
Passport to Pimlico Quotes
There are no approved quotes yet for this movie.