Pastime
(1991)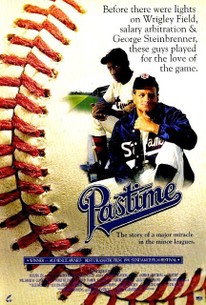 Movie Info
In this baseball film set in the late 1950s, an aging minor-leaguer (William Russ) befriends the team's first black player (Glenn Plummer), a gifted young pitcher.
Critic Reviews for Pastime
All Critics (9) | Top Critics (3) | Fresh (4) | Rotten (5)
Plays an honorable game, tackling the touchy subject of ageism on the baseball field. But it's ultimately a hollow attempt, one that thinks that just by touching on a subject that it makes up a plot.
Pastime is a thoughtfully made and intimate drama about a veteran relief pitcher for a class D professional team who turns to mentoring a younger player as his way of saluting the sport he loves.
Great film on minor league baseball in a different time.
December 23, 2002 | Rating: 3/5
Audience Reviews for Pastime
½
An aging pitcher takes a promising African-American hurler under his wing in the minor leagues. The title of this film is a pun: baseball is America's pastime and the main character is past his time. I'm not saying the pun is clever or that I like it; I'm just saying I notice it. The film is compelling because William Russ gives a good performance in the leading role, but that's about all I can say for it. Set in the fifties, the film ignores or glosses over the racial realities of baseball at the time. Yes, Tyrone is persona non grata in the clubhouse, but that's the extent of the racial tension he has to face though Jackie Robinson's reality showed a treatment quite different than what Tyrone deals with. Also, the baseball action is as realistic as baseball action is in most films, excepting 61* and Sugar. The pitchers don't warm up, the hitters don't work counts, and players mostly either strike out or hit home runs. The characters are bluntly drawn, especially Inez who has no inner life of her own and serves the plot only as a mild romantic interest. Tyrone is meek, but we don't where he comes from or why he is driven to succeed in the game. The exposition revealing the owner's backstory is from the "How to Not Do Exposition" manual. Overall, even for baseball fans Pastime is a poor effort.
Jim Hunter
Super Reviewer
Now a lot of you movie fans will read this synopsis and immediately draw several allusions to the 1988 Baseball classic Bull Durham with Kevin Costner and Tim Robbins. It should be noted that Pastime did indeed come out a few years after Durham but the story Pastime is adopted from was written long before Durham was made. That being said I think I like Bull Durham better even though I like this film taking place in the tail end of the 50â²s and have the relationship take place with and older white guy and a young African American kid just starting out at a time when Baseball was still getting through its bigoted phase. The movie has a very âindyâ? feel to it while also doing enough work to make it feel like the the 50â²s. And telling a minor league ball story from this era is a cool hook (one that got me watching in the first place). The performances are pretty good as well. The cast is mostly made up of character actors and are somewhat familiar but no big names unless you count Jeffery Tambor (Arrested Development). The movie also plays with traditional movie tropes that you are use to seeing in sports films like this. I wonâ(TM)t go into spoiler territory but for example Roy-Dean made it to the majors but he was never a great player that just got hurt or too old like in so many others. He was up for one game and gave up a grand slam and never saw the prime time again. He wasnâ(TM)t MLB material and he just sat around in the minors until he couldnâ(TM)t hack it there either, but even though he didnâ(TM)t have the tools he had the knowledge and tried to pass it on even though he was the proverbial punching bag on his team. For its good it also had moments where the movie just didnâ(TM)t feel complete to me, like it was missing something, maybe more character development or back story would have really sucked me in more. It is a good movie that deserves a look especially if you enjoy Baseball!
Anthony Lewis
Super Reviewer
Pastime Quotes
There are no approved quotes yet for this movie.