Pat and Mike
(1952)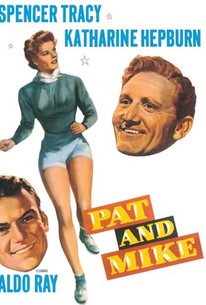 TOMATOMETER
AUDIENCE SCORE
Critic Consensus: Katharine Hepburn and Spencer Tracy take competition to a romantic-comic highpoint in this elegantly directed sports comedy by George Cukor.
Movie Info
Pat (Katharine Hepburn), a college phys-ed instructor, enters into professional competition as a golf and tennis player. Mike (Spencer Tracy), a likeable but unscrupulous sports promoter, first attempts to bribe Pat to lose, but later becomes her manager. Pat performs brilliantly until her insufferable fiance Collier West (William Ching) shows up; West always manages to make Pat so nervous that she can't win to save her life. At long last, West walks out, having found Pat in a compromising situation with Mike. Though she'd previously kept her distance from Mike, Pat suddenly realizes that she's fallen in love with him and--after a few crooked gamblers are disposed of--Pat and Mike become partners on a permanent basis. Pat & Mike reunited Tracy and Hepburn with their favorite director, George Cukor, and their favorite scenarists, Ruth Gordon and Garson Kanin. Watch for real-life golf and tennis champs Gussie Moran, Babe Didrickson Zaharias, Don Budge, Alice Marble, Frank Parker, Betty Hicks, Helen Dettweilerand Beverly Hanson as "themselves" -- and also keep an eye out for ex-ballplayer Chuck Connors, making his acting debut as a highway patrolman.
Critic Reviews for Pat and Mike
Audience Reviews for Pat and Mike
The story of of lady sports protege and her shady manager is a sheer cover for this light farce about gender roles, typecasted with Tracy and Hepburn. Despite having moments of mirth the overall feeling I got was that the writers, Ruth Gordon and Garson Kanin, cranked this out over a weekend. Still the star pairing is magnetic. Look for Charles Bronson, Chuck Conners, and Alfalfa (of the Little Rascals) in bit parts.
Kevin M. Williams
Super Reviewer
The synopsis on here says "predictable comic mishaps" predictable is right. These stars deserve more than another predictable comedy with a little romance. Yes, they do add sports to the mix, but that doesn't make it any more interesting.
½
Lady golfer Pat gets so stressed out in the presence of her fiance, she blows a golf tournament. Mike is a sports promoter who spots her at the tournament and signs her on to be one of his clients. It turns out golf is one of her "minor" sports, tennis and shooting being her major sports (although shooting really isn't referenced much subsequently). The fiance turns up at a tennis tournament and proves to be her achilles heel once again, with great visual effects used to signify her sudden mental block (it's a little bit of avant garde comedy). There are a few funny moments (Pat coming to Mike's "rescue" and beating up some gangsters for him), but the romance between Pat and Mike seems highly unlikely given the two's disparate backgrounds (she's an erudite college girl and he's a street hustling small-time promoter/bookie/gangster). A light and enjoyable comedy from two screen legends.
Devon Bott
Super Reviewer