Pat Garrett & Billy the Kid
(1973)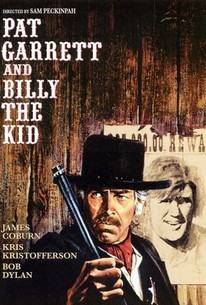 TOMATOMETER
AUDIENCE SCORE
Critic Consensus: Sam Peckinpah tips his hat in mournful salute to the bygone West in this somber showdown, pitting a James Coburn against Kris Kristofferson in a meditative game of cat and mouse.
Pat Garrett & Billy the Kid Photos
Movie Info
A former friend betrays a legendary outlaw in Sam Peckinpah's final Western. Holed up in Fort Sumner with his gang between cattle rustlings, Billy the Kid (Kris Kristofferson) ignores the advice of comrade-turned-lawman Pat Garrett (James Coburn) to escape to Mexico, and he winds up in jail in Lincoln, New Mexico. After Billy theatrically escapes, inspiring enigmatic Lincoln resident Alias (Bob Dylan) to join him, the governor (Jason Robards Jr.) and cattle baron Chisum (Barry Sullivan) requisition Garrett to form a posse and hunt him down. Rather than flee to Mexico when he can, Billy heads back to Fort Sumner, meeting his final destiny at the hands of his friend Pat, who, two decades later, is forced to face the consequences of his own Faustian pact with progress. With a script by Rudolph Wurlitzer, Peckinpah uses the historical basis of Billy's death to eulogize the West dreamily yet violently as it is desecrated by corrupt capitalists. Both Pat and Billy know that their time is passing, as surely as Garrett's posse knows that they are participating in a legend. Using familiar Western players like Slim Pickens and Katy Jurado, Peckinpah underscores the West's existence as a media myth, and he even appears himself as a coffin maker. Just as the bloodletting of Peckinpah's earlier The Wild Bunch (1969) invoked the Vietnam War, the casting of Kristofferson and Dylan alluded to the chaotic late '60s/early '70s present; the counterculture has little place in a corporate future. Also like The Wild Bunch, Pat Garrett was truncated by its studio; the cuts did nothing to help its box office. Key scenes, particularly the framing story of Garrett's fate, have since been restored to the home-video version. In this director's cut, Pat Garrett and Billy the Kid stands as one of Peckinpah's most beautiful and complex films, killing the Western myth even as he salutes it.
News & Interviews for Pat Garrett & Billy the Kid
Critic Reviews for Pat Garrett & Billy the Kid
Audience Reviews for Pat Garrett & Billy the Kid
Disclaimer: I saw the 1988 Turner Preview version of this film, which is 122 minutes long, and, unlike the compromised theatrical version, is supposedly the closest thing to Peckinpah's original intention for this film, which was a very troubled production. That being said, I'm still very mixed on this film. I wanna say that I really enjoyed it, and that I do kinda recommend it, but at the same time, it's still a flawed film, even if this version is apparently better than the original. So, I have some hesitation fully recommending it, but still think that you might wanna at least try to give it a watch, since there are some good elements. The stroy here is a rendition of the classic story about legendary outlaw, and his relationship to his former friends turned enemy lawman Pat Garrett. It was Peckinpah's final western, and, like many westerns made in the 70s, it's very reflective of the time ot was made, and reeks of very melancholy and elegiac overtones. This is a lyrical and somewhat poetic film, and I like that there is a blend of action and character development, but the way it's done, it's like, damn, who knew that Peckinpah could actually be kinda boring? Boring shouldn't really be associated with Bloody Sam unless you also throw in the word "not". Yet, there it is. This film is pretty slow, and though it is only 122 minutes, it feels a lot longer. I find it odd that this version is apparently what Sam was really going for, but hey, I never knew him personally, so maybe I shouldn't judge him too harshly. I love the cinematography though, because it is excellent, and the washed out grainy look is very fitting, The film has a very notable and talented cast, but their performances, though not bad, are kinda underwhelming, and do leave something to be desired. Bob Dylan's score, likewise, though not terrible, is also not as epic as it could have been. When Andrew Dominik made his Jesse James film, which is very similar to this, I loved it. Maybe it's because I wasn't used to his work, and had nothing to compare it to, like I do with this one. Perhaps I shouldn't be doing that, but hey, I don't know what to say. There are some really great moments, but I think the film could have just told this eic tale in a less meandering and heady fashion.
Chris Weber
Super Reviewer
A good film though it has many flaws. When it's good, it's great.
Graham Jones
Super Reviewer
Patented Peckinpah western with a dream cast that includes James Coburn, Kris Kristofferson, Bob Dylan, Chill Wills, Jason Robards, Rita Coolidge, Jack Elam, Slim Pickens and Bruce Dern.
Randy Tippy
Super Reviewer
Pat Garrett & Billy the Kid Quotes
| | |
| --- | --- |
| Billy the Kid: | Pat Garrett [Incadescent with rage when his partner attempts to defile Billy's corpse]: WHAT YOU WANT, AND WHAT YOU ***GET*** IS TOO COMPLETELY DIFFERENT THINGS |
| Pat Garrett: | [incadescent with rage when his partner attempts to defile Billy's corpse] WHAT YOU WANT, AND WHAT YOU *GET* IS TOO COMPLETELY DIFFERENT THINGS. |
| | |
| --- | --- |
| Pat Garrett: | Pat Garrett: You owe me. Deputy: I OWE you? Pat Garrett: Yes. For pulling you out of that snowdrift in Montana. For saving your life more times than I can remember...And for putting up a whole lot of s--t that I never orta have done. Deputy: (sighs) I hope they get my name right in the papers. |
| Pat Garrett: | You owe me. |
| Deputy Ollinger: | I OWE you? |
| Pat Garrett: | Yes. For pulling you out of that snowdrift in Montana. For saving your life more times than I can remember...And for putting up a whole lot of s--t that I never orta have done. |
| Deputy Ollinger: | [sighs] I hope they get my name right in the papers. |
| | |
| --- | --- |
| Pat Garrett: | Pat Garrett (After surveying Bob Ollinger's mangled corpse): Would some of you good townsfolks get old Bob up off the ground and into it? |
| Pat Garrett: | [after surveying Bob Ollinger's mangled corpse] Would some of you good townsfolks get old Bob up off the ground and into it? |
| | |
| --- | --- |
| Billy the Kid: | Billy the Kid: I'll throw in a buck twenty in change if you'll dig it out of old Bob here. |