Patch Adams
(1998)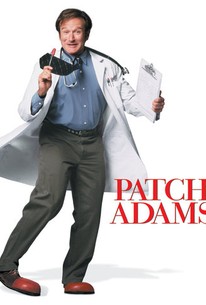 Movie Info
Based on the true story of a misfit medical student whose unconventional approach to healing causes headaches for the medical establishment but works wonders for the patients.
News & Interviews for Patch Adams
Critic Reviews for Patch Adams
Audience Reviews for Patch Adams
A Dr. who had changed the way that all doctors had treated their patients and what he had gone through to be accepted as a full on doctor. But how does Robin Williams do as his portrayal of this incredible man. Patch Adams is based on the life of the great Doctor Hunter Adams. The film follows his life after he goes to medical school and he is criticized by the head of the school due to him helping other patients when he doesn't need to help them when more experienced doctors should get the job done of making the patients feel better in the medical sense. But Patch wants to make patients feel better in the mental sense as well as the medical sense. Robin Williams does a magnificent job as Hunter Adams, making him both a kind and sympathetic character and making him also a very likable and funny character, and you truly feel for all the pain he is going through during his time at medical school. Monica Porter does a great job as well as his love interest even if in real life her character was a male and had no affection for Patch in the love sense. She does a good job at being a somewhat mean character but she ends up being a very well developed and likable character near the end of her character in the film. Phillip Seymour Hoffman and Daniel London also both do great jobs as his good friends and Phillip Seymour Hoffman does a great job at being both a hatable character and ends up being a likable character. Now for a Robin Williams this isn't really a comedic based film which is somewhat surprising for a film marketed as a film where Robin Williams is on the poster with a clown nose. he does act goofy a lot in the film but not as much as you'd expect, and really, its somewhat welcome for a film like this and he does the drama off well with this small bit of goofiness. Overall this is my favorite of Robin Willaims film and one of my favorite movies, and that says a lot for a non comedic film when Williams is one of my favorite comedians as of late. The acting is well done, the characters are likable, and the film has some real good drama and shocks. If you can check this film out I'd say do it, no matter what the Nostalgia critic says.
Michael Edwards
Super Reviewer
½
A pathetic tearjerker that tries to make us cry at all costs with every sort of cheap narrative and manipulation, not even realizing how insulting it is with Robin Williams playing a clownish retard who is supposed to be some kind of happiness hero for the pitiful ones.
Carlos Magalhães
Super Reviewer
Patch Adams is one of those films that deserved to be a very entertaining film, but unfortunately failed to in every respect to deliver something satisfying for the viewer. I really wanted to enjoy the film, but I simply couldn't. This film is an awful train wreck of a movie that has a cast of phenomenal talent that is simply wasted on such poor material. Robin Williams who is an incredible comedic talent can't save this dreck due to a poorly written script. Right from the first ten minutes, you realize that this film was doomed to fail. Nothing worked. The film tried way too hard at being an emotional piece, and failed miserably because the film's ideas simply went nowhere. The subject is quite interesting, and I think it's a shame that there couldn't be any better way of giving this story the treatment it really deserved. Robin Williams has made better films than this, and lucky for him his legacy as a good comedic actor is secured due to films like Good Morning Vietnam and Mrs. Doubtfire. I really wanted to love the film, but I simply couldn't. This film just lacked anything to really keep you interested. The attempts at humor simply are a failing attempt at trying to make you laugh. If you enjoy Robin Williams like I do, you won't enjoy this failure because it illustrates a real lack of passion from a man who is usually very funny and is an icon of comedy that belongs up there with Richard Pryor and George Carlin. With Patch Adams, Williams has made one of the worst films of his career and if you usually enjoy Robin Williams, you'll find that such a good comedian deserved a better picture to make and much better material to work with.
Patch Adams Quotes
There are no approved quotes yet for this movie.