Pathfinder
(2007)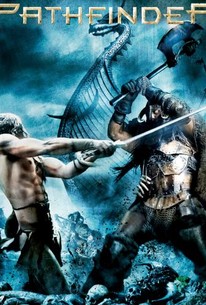 Movie Info
In an untamed, primordial America, 500 years before Columbus will reach its shores, unfolds an epic battle between love and hate that will change one man's destiny and the future of a nation: "Pathfinder." This action-adventure saga recreates one of the most riveting, yet never-before-seen, eras in human history--when Viking "dragon" ships from the mysterious Norse lands arrived out of nowhere to invade a pristine North America. Inspired by historical findings, yet forged with the magic and style of a modern graphic novel, "Pathfinder" comes to life in a cinematic experience filled with intense and primal action.
News & Interviews for Pathfinder
Critic Reviews for Pathfinder
Audience Reviews for Pathfinder
Fictional story about Viking raiders landing in modern day North America and fighting against native American Indians as they try to colonize. Loving the idea for this pitting different types of native tribes against each other, nice concept which was taken up by 'Dark Horse' comics and made into an equally decent graphic novel with amazing brooding artwork. The film is highly stylised much like the graphic novel and looks gorgeous, the whole film is virtually in black, white and grey with hints of faded colour and only broken by the spray of blood spilt during some brutal battles. Its not entirely accurate of course with the Vikings being really built up and laden with heavy metal armour and horned helmets to make them look fierce, it does work as they look amazing and powerful but obviously more comicbook than reality, almost a 'Conan' feel to them really. The American Indians also look really good and much more realistic with some lovely costume and adornment design along with good makeup and hair styling. But its the cast used for the Indians that adds real class, Russell Means as a tribal chieftain really gives the film a more believeable feel. The whole film basically one lavish set piece after another with not much dialog but there doesn't need to be as the plot is the most used and basic going. Local young tribesman leaves village, village gets destroyed by nasty barbarian types, young man comes back, gets upset and vows revenge, gets it, the end. Although the stunts and battles are tremendous looking the film is pretty shallow and offers nothing more really, unlike '300' which is based on truth this film is fictional so it feels more of a silly fantasy film than anything. I did enjoy the film and if you like '300' then you will probably like this as its even more slick and brooding than that really, a real living graphic novel but probably helped by the release of '300'. I did enjoy the use of subs for the Vikings which really added to the quality (real Icelandic) and the rest of the cast is decent with Urban possibly in his best film so far, gets a little loose towards the end but this is a fine historical cum fictional offering if you enjoy savage clashes.
Phil Hubbs
Super Reviewer
Disappointed with this one even though it was OK. Interesting clash of cultures but overall it was rather forgettable. Wasn't as bloody as I was expecting it to be either.
½
Wow!! It seems like people either really hated this movie, or REALLY liked it!!! You can put me in the really, really liked it category. I popped this movie in, and was mesmerized throughout the whole thing, If you like movies like Apocalypto or 300, you should like this one. I thought the visual look to the movie was amazing, the bloody graphics were amazing, and the entire concept was very cool!
Cynthia S.
Super Reviewer
Pathfinder Quotes
There are no approved quotes yet for this movie.