Paths of Glory
(1957)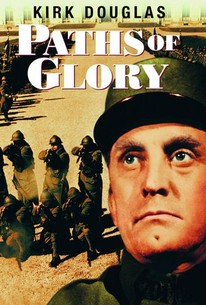 TOMATOMETER
AUDIENCE SCORE
Critic Consensus: Paths of Glory is a transcendentally humane war movie from Stanley Kubrick, with impressive, protracted battle sequences and a knock-out ending.
Movie Info
When soldiers in World War I refuse to continue with an impossible attack, their superior officers decide to make an example of them.
Critic Reviews for Paths of Glory
Audience Reviews for Paths of Glory
Kubrick's best depiction of the brutal and dehumanizing face of war, it not only offers excellent performances, an exquisite cinematography and an intensely absorbing dialogue, but ends with an especially beautiful (and thought-provoking) last scene.
Carlos Magalhães
Super Reviewer
Despite being known as a bit of a classic, Kubrick's anti-war film was not a box office hit at the time of release. It was actually frowned upon by various European countries for the portrayal of the military and its negative message towards the establishment in general. It is clear to see the moral injustice carried out which is the films basis and the theme for the anti-war message. The fact that men were shot by their own country for petty charges such as cowardice, or less, shows how poorly humans treated each other and at this time how life was cheap. High ranking officials grasping for honours by playing their war games with real lives at stake. This whole ideal naturally caused controversy at the time of release amongst military leaders (especially French ones), the truth stings huh. As a film there isn't much better, there are numerous classic war films of the age and this Kubrick offering is up there with the greats. What is impressive (like 'All Quiet on the Western Front') is the gritty trench/no man's land sequences which are highly authentic looking with fantastic production values. Truly a real work of art displaying bunkers and trenches soaked in thick wet mud, bomb craters and debris set in a barren misty wasteland scattered with bodies and barb wire. But remember this isn't an action flick, this isn't a war film high on blood and guts fighting, its about the moralities of war. Told from a French point of view of course (WW1 trench warfare against the Germans), but amusingly you wouldn't think it as the cast bare no attempt to sound French with everyone having an American accent. Wayne Morris as the drunken Roget especially with his slightly southern twang, these days that would be more accurate I'm sure. But no one can dispute the quality of the cast line up with a strong headed Douglas (Dax) leading the way. With fire in his eyes he tries his best to remain civil against a sly heartless Macready who in turn is trying to butter up the quietly cunning Menjou for promotion. There is added entertainment with a surprisingly good portrayal from Carey as one of the doomed soldiers as he displays some much needed dark gallows humour to the whole affair. The little sequence where he squashes a cockroach whilst awaiting his fate in a military jail is actually amusing and almost out of place. You are just given snippets of relief from this story of lunacy and corruption. At other times you feel the desperation and anger for the hand picked men, picked for execution. One man chosen because he witnessed his commanding officer get up to no good on a scouting mission, another because he is simply unsociable and the final man merely at random despite being awarded medals for bravery (a young Joe Turkel who will later turn up in cult classic 'Blade Runner'). I'm sure people can relate to being persecuted, maybe in the workplace for whatever reason, picked on or victimised. Its a very easy, common thing that can happen to anyone, well imagine that but in the end you'd be shot at dawn for it. When you think about it, the whole process you're watching unfold really grabs you by the scruff of the neck and shakes you violently. You really want Dax to win, to show the commanding hierarchy in their ivory towers what's its really like to be a grunt on the front line facing certain death. Would you run blindly across inhospitable land into gun fire?? In the end of course its all to no avail. The powers that be get their way and later on the rest of the men are once again ordered back to the front where they will all most likely be killed. Dax knows what will happen as do we the viewers, and with that he leaves them to enjoy one last happy sing song. The films message is clear and virtually stated by Douglas during the court martial scene and its spot on. Kubrick's adaptation of the Cobb novel is pinpoint and speaks volumes, it paints a solemn picture of the era in many ways, generally negative. The fact the whole story is also based on a true event makes it even more poignant.
Phil Hubbs
Super Reviewer
This is the true story of how those in power took advantage of it and put three innocent soldiers on the stand for cowardice, during World War I. One of Kubrick's earlier classics, this film deals with the savagery of violence, and how the common people are made to fight others' wars. The visuals are so empowering, and the film hits you right in the gut with its emotional prowess. The lives of these men are decided by the higher powers and their decision making, over what is just. Col. Dax (Kirk Douglas) tries to save the lives of the three men in question but he has to fight against bureaucracy time and time again. Even when he has a chance to right the injustice he is thwarted by his government and unfair officials, who fight them in purely evil and sadistic ways. We don't know until the final moment whether or not the three men will be saved, and it's a long and painfully aware scene. The very ending, with the German girl in the bar, singing a familiar tune, sparked such a human empathy within myself that it made me cry. A very emotional and quintessentially moving film, it's obvious that Kubrick has made the seminal war film.
Spencer S.
Super Reviewer