Paul Blart: Mall Cop
(2009)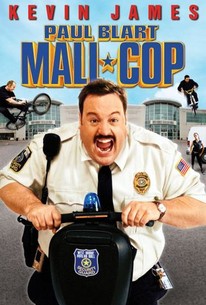 Paul Blart: Mall Cop Videos
Paul Blart: Mall Cop Photos
Movie Info
A New Jersey rent-a-cop gets his moment to shine as the holidays approach and Santa's little helpers stage a coup at the local shopping mall in this comedy starring King of Queens' Kevin James. Paul Blart (James) is a single suburban dad attempting to make ends meet by working as a mall security guard. Paul takes his job very seriously; unfortunately the same can't be said for the shoppers he deals with on a daily basis. That all changes the day that Santa's little helpers shut down the mall and start taking hostages, including Paul's daughter and his main squeeze. Realizing that no one knows the mall better than the man who's paid to guard it, Paul mounts his Segway and speeds to the rescue. ~ Jason Buchanan, Rovi
Critic Reviews for Paul Blart: Mall Cop
Audience Reviews for Paul Blart: Mall Cop
I liked this, sure its very childish, predictable, cheesy and we've seen it all before but its still humorous and doesn't take itself seriously (of course), so hey...what the hell. James makes it funny, simple, I like Kevin James ('King of Queens') a lot. Like John Candy, John Belushi and Chris Farley his size gives his light-hearted, visual comedy skills a mega boost. He's a nice guy, easy going, makes you feel happy and comfortable with his average guy, blue collar persona. The plot is utter trash, very stupid, a total 'Die Hard' parody in the second half (almost a spoof) which at times becomes a bit too close to serious and not funny. The whole hostage idea kinda spoils the comedy side of things, it should of remained just a 'Dumb n Dumber' style comedy to the very end. It all gets a bit moody and at times a tad dark, the movie forgets what its suppose to be here and there, methinks. The whole concept at the start is funny, a mall cop who thinks he's a real cop in a mall, the scene where Blart stops an OAP in a buggy is brilliant, best scene, other things are very babyish eg. prat falls and drunk tomfoolery etc..That angle does lower the tone when it could of been a great 'Dodgeball' style adult comedy. A slight shame because it could of been a solid classic spoof/parody comedy. Nevertheless its still a reasonably fun little film, good time if your with your mates...possibly a bit tipsy.
Phil Hubbs
Super Reviewer
½
[img]http://images.rottentomatoes.com/images/user/icons/icon14.gif[/img] Kevin James' commitment to the roll and its funniest moments are enough to enjoy this charming, silly film.
Directors Cat
Super Reviewer
I was not at all interested in this film and saw it only by chance; however It was not as bad as I was anticipating though. It's obviously that silly slapstick style of comedy, but I found myself intrigued enough to want to see how the ending pans out.
Gregory Dark
Super Reviewer
Paul Blart: Mall Cop Quotes
| | |
| --- | --- |
| Paul Blart: | Safety never takes a holiday. |
| | |
| --- | --- |
| Paul Blart: | I believe in magic! |
| | |
| --- | --- |
| Stuart: | Peanut Blart and jelly! What, what, what's up, man? |
| Stuart: | Peanut Blart and jelly! What, what, what's up, man? |