Pauline At The Beach
(1983)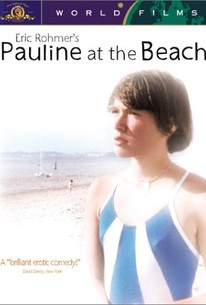 Pauline At The Beach Photos
Movie Info
Pauline a la Plage is the third of French filmmaker Eric Rohmer's "Comedies et Proverbes." Pauline (Amanda Langlet) is the teen-aged cousin of the seemingly more worldly and sensible Marion (Arielle Dombasle). Both girls become entwined in amorous escapades while vacationing at the beach. It gradually develops that Marion is the one least capable of handling herself, while Pauline grows in maturity from her summertime experiences. It is nothing short of amazing how Eric Rohmer can take the most conventional and obvious of material and weave something as charming and profound as Pauline at the Beach. ~ Hal Erickson, Rovi
Critic Reviews for Pauline At The Beach
Audience Reviews for Pauline At The Beach
½
This film saved Eric Rohmer in my book. I bought it by chance, just figured I ought to be a good cinephile and give him a second chance to really "shine" after Ma Nuit Chez Maud, which I liked but didn't love. Luckily I thought Pauline à la Plage is a wonderful film; may seem very simple at first but there's something about it that's really enrapturing.
In the film, Pauline, a young girl who's never been in love, is spending a few days at the beach under the care of her cousin Marion, an exuberant woman, maybe in her mid-thirties. One day, after a swim, they come across Pierre, an old flame of Marion's from the days before her marriage -and divorce-. Immediately, an acquaintance of Pierre, Henri, the oldest of the group, sneaks into the conversation and introduces himself to the girls. So a party of four is constituted and drama follows.
These four characters are excellently developed. Rohmer discreetly slips us anecdotes and impressions from their past, and engages us in their conversations about love and lust over wine and dinner. Their talk is candid and insightful but not overly philosophical. They are intelligent people, discussing serenely and comparing their moral viewpoints as their relationships with each other change in slight ways. Pierre believes in true, lasting love, Marion in love at first sight, Henri in having as many women as come his way, and Pauline just wants to find someone she can know, and then love.
Soon enough the occasion arises to put the 'talk' in practice, and for attitudes to challenge each other. Henri and Marion begin an affair, much to Pierre's despair. Pauline observes the Henri-Marion-Pierre love triangle from a distance, at times with concern and at times with some disgust, until she meets a boy at the beach that puts her mind on her own romantic education. Then, in a narrative twist so well introduced that at the moment I didn't grasp the weight it would have in the rest of the story, an unfortunate discovery leads to misunderstandings that put everyone's "love" under scrutiny.
The film unfolds by the sea. Whether walking by the shore, going knee-deep into the waves, sunbathing, sneaking into each other's houses through the window, laying in bed in the morning, riding bicycles around town, the camera follows each character under a beautiful yellow light. They walk around skimpily dressed at all times, as if exposing themselves, expecting something to happen, to make contact. Their state of mind is hazy and decadent; they maintain a casual but steady physical contact with each other, they live in the present, they seldom talk about their lives in the city. I can only compare the feel with the first chapters of Bonjour, Tristesse , abandon and bliss mixed with a little anguish.
Pauline à la Plage's charm is the curiosity it sparks. It seems to lead somewhere, to a conflict we don't quite foresee, and then delivers it in a purely cinematic manner. It also rests on the charisma of its characters, and on dialog great enough to construct believable characters and make them worth caring for. I found it both amusing and thought-provoking, and a worthy hour-and-a-half escapade towards a final asseveration we have known all along, but were maybe too cowardly to accept as a solution.
Pauline At The Beach Quotes
There are no approved quotes yet for this movie.