Pauly Shore Is Dead
(2003)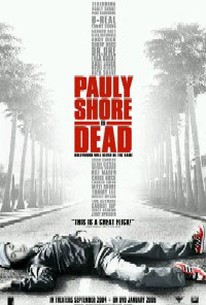 Pauly Shore Is Dead Photos
Movie Info
Can death be a good career move? The star of Bio-Dome, Jury Duty, and In the Army Now decides to find out in this satirical comedy. Pauly Shore (playing himself) takes a role on a new situation comedy series for FOX TV after a string of awful movies puts paid to his film career, but when the show is axed at the last moment, Shore finds himself flat broke and unable to find work in Hollywood. At the end of his rope, one night Shore is visited by the ghost of comic Sam Kinison, who suggests that killing himself might be the answer. Shore lacks the nerve to go quite that far, but he goes half-way by faking his own death and is amazed to discover an outpouring of post-mortem enthusiasm for him and his body of work, with the dead comic now praised as a genius; however, as Shore tries to figure out how to capitalize on this outpouring of acceptance, word begins to spread that the comic is actually alive and well, which only causes more problems for him. Produced under the title You'll Never Wiez In This Town Again, Pauly Shore Is Dead was written and directed by Shore himself and features an impressive list of celebrity cameos including Chris Rock, Sean Penn, Ellen DeGeneres, Britney Spears, Vince Vaughn, Andy Dick, Paris Hilton, and lots more.
Critic Reviews for Pauly Shore Is Dead
Audience Reviews for Pauly Shore Is Dead
½
Decent mockumentary on forgotten actor Pauly Shore where he spoofs himself, this is a pretty original film, and considering that Shore is so-so, this is actually a pretty original idea for a film. This film is imperfect and has many flaws, but I'm somehow found it enjoyable. If you're familiar with Pauly Shore, you'll know he's always had one trick up his sleeve, and people got fed up rather quickly with him. I enjoyed Son in Law and Encino Man, but the rest of his films were bad to mediocre, using the same tired out joke that made Shore popular. Pauly Shore fans will enjoy this film, and I'll admit, I liked the film, and I thought it was really original, but it fell short on its potential of what it could have been. The jokes are decent, and never anything good, however it did make me smile at how stupid this film was. You got to give Pauly Shore props, he was able to make fun of himself in quite the manner, and he was able to pull off something, better than most of his early films combined. This is worth seeing if you like his work. I liked two films of his, and basically gave up on the guy after In the Army Now and Bio Dome. This film manages to be funnier than his later films, and it's a pretty decent try at a mockumentary, even if it's nothing ever good. Pauly Shore fans should definitely check this film out and they're sure to love this as much as his other films, but for viewers who hate the Weasel, they may want to skip this one altogether.
MisterYoda ?
Super Reviewer
Painfully unfunny. I actually like Pauly Shore, but this film is bulls***! The successful joke ratio here is about one in a hundred, and I'm not even exaggerating. Man, this film actually made me forget that films can actually be funny! Just avoid this... PLEASE!
Pauly Shore Is Dead Quotes
There are no approved quotes yet for this movie.