Paycheck
(2003)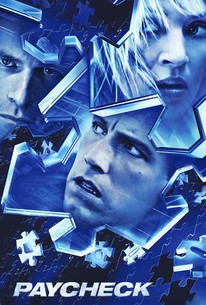 TOMATOMETER
AUDIENCE SCORE
Critic Consensus: Though Dick's short story has an intriguing premise, Woo reduces it to a lot of meaningless chases, shoot-outs, and explosions.
Movie Info
Brilliant computer engineer Michael Jennings routinely has his short term memory erased, so he can't divulge any information about the top secret projects he works on throughout the year. For his most recent gig, he expects to receive over four billion dollars. Upon completion of the job, however, Jennings is given a filled envelope--not with a check for his billions, but containing random objects. It is communicated to him that he had agreed to forfeit his payment for this specific project. With his memory erased, the meticulous engineer attempts to use the objects in the envelope to figure out what happened to him in his now obscured past. Soon, federal agents are after Jennings and he teams up with his old flame, Rachel, who helps him uncover the mystery of his past--and the question behind why the people whom he once worked for, now want him dead.
News & Interviews for Paycheck
Critic Reviews for Paycheck
Audience Reviews for Paycheck
Another classic Philip K. Dick story is brought to the big screen only this time its been 'Woo'd'. To be very very honest this is pretty much a poor mans 'Minority Report' with a bad cast, accept for the big chinned Eckhart, why this short story has not been given the same care as 'MR' I don't know. The film plays out with Affleck (yes -_-) as a 'reverse engineer' who...actually I still have no idea really what he is suppose to do in his role, all I know is it involves having his memory wiped after he's done each job but this time he has been used and set up by the evil Eckhart. Cue allot of running around, guns blazing everywhere, your typical Woo car/motorbike chase with standard silly slow motion stunts and of course your typical standard Woo point blank face off...or Mexican standoff. The concept for the film is pretty neat, not totally original in today's film world but it has promise, unfortunately like 'M.I.2' Woo was totally the wrong director for such a decent sci-fi story. The whole thing looks bad, especially during the finale which looks like its been filmed on a set from the 60's Batman TV show, plus the acting is poor and hammy from almost everyone. Its all too predictable and quite simply its been done allot better with other films.
Phil Hubbs
Super Reviewer
Not a fan of Ben Affleck or Uma Thurman at all but what I saw was ok. I like the twists and turns as I tried to figure out what had happened to him. At times it felt rather slow and lethargic which ruined the atmosphere. Not something I'd watch again but a good watch for anyone interested in Philip K. Dick and time travel stories.
Sophie Burgess
Super Reviewer
'Paycheck' is a film that simply does not know what it is and simply doesn't care. I say that because despite a promising premise, the audience has no idea what is going on through this cluttered mess of a film, and we just don't care at all for the protagonist, played well but unmotivated by an aging Affleck. I guess if you are into these weird, retroactive and hip films, then go ahead. If you are apart of a mainstream audience, rent Dogma, Affleck's better film.
Matt Goodman
Super Reviewer
Paycheck Quotes
| | |
| --- | --- |
| Michael Jennings: | If you show someone the future, they have no future |
| Michael Jennings: | If you show someone the future, they have no future. |
| Michael Jennings: | You take away the mystery, you take away hope |
| Michael Jennings: | You take away the mystery, you take away hope. |
| | |
| --- | --- |
| Rita Dunne: | My name is McBeth, bitch! And I'ma gonna fuck you! |
| | |
| --- | --- |
| Michael Jennings: | If you only look where you can't go, you might just miss the riches below. |