Peaceful Warrior
(2006)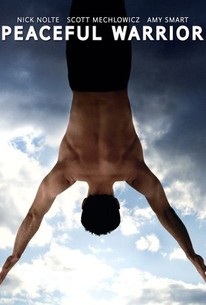 TOMATOMETER
AUDIENCE SCORE
Critic Consensus: Based on a best-selling memoir, Peaceful Warrior loses something in the transition from page to screen. It hits the viewer over the head with philosophical jargon, and ultimately fails to live up to its source material.
Movie Info
Dan Millman is a gifted young athlete bound for Olympic gold who will do anything to be the best. Driven by success, Dan has got it all: trophies, fast motorcycles, fast girls, and wild parties. But Dan's world is turned upside down when he meets a mysterious stranger in a gas station who holds the power to tap into new worlds of strength and understanding. The young man discovers that he has much to learn and even more to leave behind in order to master this new vision of greatness in this moving tale about the power of human will.
News & Interviews for Peaceful Warrior
Critic Reviews for Peaceful Warrior
Audience Reviews for Peaceful Warrior
Kind of like a modern day Karate Kid, but with gymnastics instead of karate and with a whiskey- voiced Nick Nolte in the role of the old and wise "sensei", instead of Mr Miyagi. This movie might not be as good or memorable, but it's not that far from it either, as it does have a pretty solid and inspiring story. Even more so as it happens to be based on true events. It wouldn't have hurt with a little faster pacing though, because its draggy nature was unfortunately a bit off-putting and the biggest reason to why I couldn't give it more than 3 out of 5 stars.
½
Another film inspired by actual events. While not as entertaining and comical like other films based off of actual events, this film is still an inspiring movie.
The story moves along really really slowly. This is what will probably disappoint people the most. As mentioned earlier, this film is based on true events, but it is OK to twist and turn the story a bit to make it funny and entertaining. A successful example of this is Cool Runnings. A true inspiration for the children. While this film is slow and a little bit boring, it does add a tiny tiny dash of science fiction into the mix, which will keep your interest from time to time.
The cinematography also helps this film a lot. The nice camera work takes what could be mediocre shots and turns them into pieces of art. Well, maybe I'm over exaggerating a little bit. I've seen better shot films, but I've also seen worse. The ending of this film is probably the most dramatic part of the film and the final shot ends the film nicely. Some people may not like it, but most people should appreciate it.
Nick Nolte really carries this film with his performance. No Nick Nolte equals lower rating. While his acting is good, his dialgoue isn't as great. His philosophical words actually starts out pretty interesting, but as the movie goes by it becomes old rather quickly. The beautiful Amy Smart is really underused. She has very little airtime, but at least her role is pretty important.
In the end, this can be a moving film, but it will only cater to certain people. If you don't mind a slow dramatic film, gymnastics, and Nick Nolte, this film is for you.
Not for the faint of heart, or mind. This is indeed a deep and inspiring movie, oftentimes we ourselves question why we do what we do. Confronting that, is the hard thing.
Matthew Comer
Super Reviewer
Peaceful Warrior Quotes
| | |
| --- | --- |
| Dan Millman Sr.: | when making a peanut butter and jelly sandwich, you must first apply the peanuts, not the jelly, to the bottom half of the bread. |
| Dan Millman Sr.: | When making a peanut butter and jelly sandwich, you must first apply the peanuts, not the jelly, to the bottom half of the bread. |
| | |
| --- | --- |
| Dan Millman: | The people who are the hardest to love are the ones who need it the most. |
| | |
| --- | --- |
| Socrates: | Better never start, once you start , better finish |
| Socrates: | Better never start, once you start, better finish |
| | |
| --- | --- |
| Socrates: | Where are you? |
| Dan Millman: | Here. |
| Socrates: | What time is it? |
| Dan Millman: | Now. |
| Socrates: | What are you? |