The Pebble and the Penguin
(1995)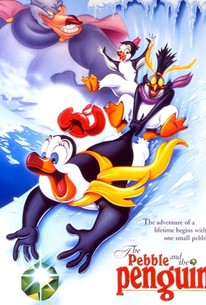 The Pebble and the Penguin Photos
Movie Info
This heartwarming animated tale follows the exploits of shy penguin Hubie. Hubie is hopelessly enamored with Marina but must compete with the macho, puffed-up Drake, who wants her to be his life mate. In order to win her, one of them must present her with a suitable pebble.
Critic Reviews for The Pebble and the Penguin
Audience Reviews for The Pebble and the Penguin
A blatantly banal and mediocre story any five-year-old is capable of writing that's full of unintentionally creepy animation, stereotypical characters, and awkward dialogue.
Matt Penney
Super Reviewer
Just like all movies with penguins, this movie is cute and somewhat funny, but not great. I liked it better when I was a kid, but it wasn't a favourite.
A shy and not so tough penguin named Hubie (Martin Short) falls in love with the good looking Marina (Annie Golden). Once he finds out that he might actually have a chance to be Marina's mate for the upcoming mating season, he tries to find her the most spectacular pebble possible. For this group of penguins, a pebble is just like a wedding ring that we humans use. But there's some rough and icy waters in store for Hubie. Not only is there a macho penguin who also wants Marina, but humans and of course whales, may also pose a threat. Back when I was a kid, I wanted to see "The Pebble and the Penguin" when it first came out in 1995, but I never got the chance to see it until today. I have to admit that it's not as good as I thought it would be, but it wasn't bad either. It has good animation, it's mildly entertaining, and it would probably be especially great for kids who like animated movies. However, on the bad side, it could've been a lot better in almost every aspect and I was disappointed with the music. NOTE: That was my Amazon review from the year 2001. I'm not disappointed in many animated flicks, but this one I sorta was, although it has its charm.
Jason Owens
Super Reviewer
The Pebble and the Penguin Quotes