Peeping Tom
(1960)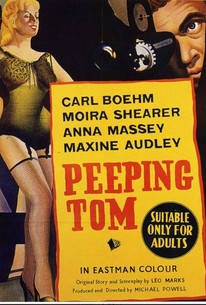 Movie Info
Mark Lewis, assistant cameraman at a London film studio, aspiring movie director, part-time taker of pornographic pictures, and amateur documentary film-maker, has begun murdering women. He kills them, literally, with his camera and films the attacks and the murders. He also surrepititiously films what he can of the police investigation. At night he carefully screens and edits the footage. This is his great documentary, his life's work. Mark leads the police closer and closer so that he can film the denouement, his own imminent capture and suicide.
Critic Reviews for Peeping Tom
Audience Reviews for Peeping Tom
½
Extremely bold and perverse for the time it came out (as it was the first film to put us in the perspective of a serial killer), this is a work of great psychological depth that dives into the dark corners of misogyny and voyeurism while making us sympathetic towards its sick protagonist.
Carlos Magalhães
Super Reviewer
½
Well directed and acted but deeply disturbing even today. No wonder it was considered so shocking in its day.
Over the years, there have been so many films to be hailed as the precursor to the Slasher film. Alfred Hitchcock's Psycho has had a profound influence on the genre, creating many imitators such as Black Christmas and Halloween to name a few. Michael Powell's Peeping Tom was highly controversial at the time of its release, prompting an end to his career in cinema. This is a stellar work of filmmaking and it was the first film to feature the murders in the killer's POV (as referenced in Scream 4). This is a stunning piece of cinema that not only is a classic of horror, but is also a classic of cinema. This film suggests only what the mind can't see, and in turn makes it much more unrelenting on the viewer. Peeping Tom is the perfect example of a film that uses atmosphere and suspense to create the mood and tone of the film, which is a technique that would be used in the early Slashers of the 1970's. Peeping Tom was a film that truly was ahead of its time, and it seems pretty tame nowadays, but back then, this was a film that caused a stir, but with that said, it revolutionized horror thrillers forever and added a much needed dimension to the genre. This film took risks and pushed the envelope and over the years, you can clearly see how this film influenced a genre. Like Psycho, this remains a benchmark of horror filmmaking, and in turn reinvented the rules. Karlheinz Böhm's performance is stunning as Mark Lewis, the killer who has an appetite for beautiful women who kills them on camera in a voyeuristic style. This is a brilliant film that genre fans will surely enjoy. Peeping Tom is often overlooked as it was certainly eclipsed by Psycho, which was released the same year, and wasn't as vilified as this film. In terms of a horror picture, Peeping Tom succeeds on many levels, and is a unique and standout film that revolutionized the genre forever. Michael Powell has crafted a fine picture using atmosphere, thrills and suspense and leaves your imagination to fill in the blanks, which is far more terrifying.