Peepli Live
(2010)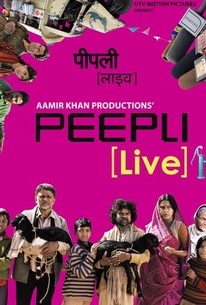 Movie Info
Natha, a poor farmer from Peepli village, is about to lose his plot of land due to an unpaid government loan. A quick fix to the problem is the very same government's program that aids the families of indebted farmers who have committed suicide. As a means of survival Farmer Natha can choose to die!. His brother is happy to push him towards this unique "honor" but Natha is reluctant. Local elections are around the corner and what might've been another unnoticed event turns into a "cause celebré" with everyone wanting a piece of the action. Political bigwigs, high-ranking bureaucrats, local henchmen and the ever-zealous media descend upon sleepy Peepli to stake their claim. The question on everyone's lips -- "Will he or Won't he?"
Critic Reviews for Peepli Live
Audience Reviews for Peepli Live
½
This is actually the first "Bollywood" movie I've seen from beginning to end. I've seen some parts of the bigger Indian movies and I just can't stand them. The singing and the dancing and almost every movie being over 140 minutes is just a complete turn off to me. But I really liked this movie. There's the problem of the move trying way too hard to satire the media and their thirst for sensationalism , and those themes are almost universal. They didn't really need to beat it into our head about how fucked up the media can be. They took this story about a man who can only provide for his family in death, and changed that focus to how the media and the government reacts to it. And that's fine, but the real story was about Natha and his decision and it was disappointing that the movie wasn't focused on his story at all. But, again, the movie is still really good and the end is pretty sad because everyone is actually WORSE off at the end than they were at the beginning. That's something that not a lot of movies do, so kudos for that. A flawed movie but it still entertains.
Jesse Ortega
Super Reviewer
Peepli Live Quotes
| | |
| --- | --- |
| Deepak: | lf you look closely you 'll see Natha's footprints. Whether escape or abduction, here's where Natha perched himself for the last time. And here's the fruit of his toil, his faeces, commonly known as shit. Take a close look. Do not cringe at the sight, for, as long as we live, we will continue to shit. Psychiatrists claim that faeces reflect our mental state. The complexion of our shit is a window to the inner self. But here we see a mixture of hues. Therefore, before reaching any conclusions we need to bring in experts as Mr Natha was no ordinary man. For Bharat Live this is Kumar Deepak, live from Peepli. |
| | |
| --- | --- |
| Deepak: | lf you look closely you 'll see Natha's footprints. Whether escape or abduction, here's where Natha perched himself for the last time. And here's the fruit of his toil, his faeces, commonly known as shit. Take a close look. Do not cringe at the sight, for, as long as we live, we will continue to shit. Psychiatrists claim that faeces reflect our mental state. The complexion of our shit is a window to the inner self. But here we see a mixture of hues. Therefore, before reaching any conclusions we need to bring in experts as Mr Natha was no ordinary man. For Bharat Live this is Kumar Deepak, live from Peepli. |