Pee-wee's Big Adventure
(1985)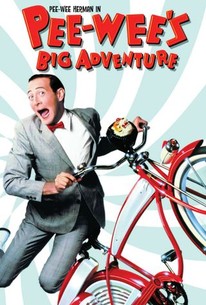 TOMATOMETER
AUDIENCE SCORE
Critic Consensus: Pee-Wee's Big Adventure brings Paul Reubens' famous character to the big screen intact, along with enough inspired silliness to dazzle children of all ages.
Pee-wee's Big Adventure Photos
Movie Info
Co-written by Paul Reubens and Phil Hartman, Pee Wee's Big Adventure marks the debut of director Tim Burton, who stamps the entire film with his quirky trademark style. The premise: Pee Wee (Reubens), an overgrown pre-pubescent boy sporting a molded Princeton cut, blush, lipstick, and a shrunken gray flannel suit, lives an idyllic life in his bizarre home (some have compared the remarkable set design to the expressionistic The Cabinet of Dr. Caligari) until someone nabs his most prized possession: a fire engine-red customized bicycle. He then embarks on an epic cross-country search to find his lost love, not to mention more than a little adventure. Along the way, he makes friends with various oddball characters, visits the Alamo, endures various hallucinatory nightmares, and has a supernatural run-in with a spectral trucker. In this reprisal of his popular standup routine, Reubens is wonderful as the nerdy man child; he plays it silly, yet he manages to imbue the role with some sensitivity without ever seeming maudlin. The score by Danny Elfman is terrific -- as is the case in nearly every film Burton has directed -- and the script is fresh and inventive. Some of the most memorable moments: the opening sequence involving Pee Wee's morning activities is a stroke of genius (note the bunny slippers and talking breakfast), as are the scenes at the truck stop, and the "Hollywood" version of Pee Wee's story at the end (starring James Brolin and Morgan Fairchild in surprise cameos). In all, Pee Wee's Big Adventure is a delightful film, enjoyable for children as well as adults. ~Rovi
Critic Reviews for Pee-wee's Big Adventure
Audience Reviews for Pee-wee's Big Adventure
Often too juvenile to bear, but for the other moments it's mostly just pure, exuberant fun. Full review later.
Thomas Bowler
Super Reviewer
½
Tim Burton's "Peewee's Big Adventure" is arguably scarier than it is funny, blending the darkness and lightness together, and I absolutely loved that contrast. The odd visuals and the bubbly soundtrack make this film a joy to watch, even though sometimes it forgets what kind of film it is trying to be, throwing in random jump scares. The story is simple, Peewee's bike is stolen and the film is his journey to bring it back. It is a very fun tale that many films after have clearly been influenced by. Some people may be turned off by it's two-sidedness, but I loved that about it. The art direction is really commendable and is what I'll remember this film most for, and of course, the Peewee character. This is an extremely fun movie!
½
The start of Tim Burton's great directing career. "Pee-wee's Big Adventure" is odd, funny, and entertaining. So many iconic moments, from the Alamo to Large Marge to Pee-wee's trek through Hollywood. I also love how Danny Elfman's score perfectly syncs to the film. The screenwriters did a great job with the script by creating truly memorable characters and scenes. Add Burton's quirky directing skills and what we get is one humorous adventure. Mickey: Well, I lost my temper and I took a knife and I uh-. Do you know those "Do Not Remove Under the Penalty of Law" labels they put on mattresses? Pee-wee: Yeah. Mickey: Well I CUT one of them off!
Eric Shankle
Super Reviewer
Pee-wee's Big Adventure Quotes
| | |
| --- | --- |
| Francis: | Why don't you make me? |
| Pee-Wee Herman: | I don't make moneys, I only train them. |
| | |
| --- | --- |
| Pee-Wee Herman: | There's a lotta things about me you don't know anything about, Dottie. Things you wouldn't understand. Things you couldn't understand. Things you shouldn't understand. |
| Dottie: | I don't understand. |
| Pee-Wee Herman: | You don't wanna get mixed up with a guy like me. I'm a loner, Dottie. A rebel. So long, Dott. |
| | |
| --- | --- |
| Pee-Wee Herman: | I meant to do that. |
| | |
| --- | --- |
| Pee-Wee Herman: | It's like you're trying to unravel a giant cable-knit sweater and someone keeps knitting and knitting and knitting and knitting and knitting and knitting and knitting and knitting and knitting... |
| Pee-Wee Herman: | It's like you're trying to unravel a giant cable-knit sweater and someone keeps knitting and knitting and knitting and knitting and knitting and knitting and knitting and knitting and knitting. |