The Pelican Brief
(1993)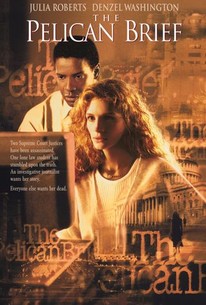 TOMATOMETER
AUDIENCE SCORE
Critic Consensus: Julia Roberts and Denzel Washington are a compelling team in the overlong Pelican Brief, a pulpy thriller that doesn't quite justify the intellectual remove of Alan J. Pakula's direction.
Movie Info
Embroiled in an affair with Thomas Callahan (Sam Shephard), her alcoholic professor, precocious 24-year-old Tulane University law student Darby Shaw (Julia Roberts) writes up an insightful theory about the recent murder of two Supreme Court justices, one of whom, Abraham Rosenberg (Hume Cronyn), served as Callahan's mentor. When Callahan shares this so-called "Pelican Brief" with buddy Gavin Verheek (John Heard), an FBI lawyer, the document makes its way to White House flack Fletcher Coal (Tony Goldwyn), who believes it could topple the current administration. When Callahan is murdered and the President (Robert Culp) convinces the FBI to hold off on investigating Darby's theory, the resourceful student must go into hiding, stalked by relentless assassin Khamel (Stanley Tucci). Her only hope of escaping Callahan's fate and proving her theory lies in Washington investigative reporter Gray Grantham (Denzel Washington), who's already had one confidential source back out of sharing information about the assassinations. This John Grisham adaptation is generally faithful to the best-selling novel. Fans of HBO's Sex and the City will notice one of its future stars, Cynthia Nixon, in a small role as one of Darby's New Orleans classmates. ~ Brian J. Dillard, Rovi
Critic Reviews for The Pelican Brief
Audience Reviews for The Pelican Brief
With so much happening on screen for a bloated running time of 141 minutes, it is easy to overlook the countless inconsistencies and stupidities of this half-baked conspiracy thriller that believes to be pretty clever but is filled with paper-thin characters who rarely behave smartly.
Carlos Magalhães
Super Reviewer
½
Not all that enthralling. Probably only of interest to Julia Roberts fans. Over long and hard to follow (or maybe just my attention kept drifting off). Wanted to like it, but just a bit dull.
Nicki Marie
Super Reviewer
½
Made somewhere around the start of the mid-90's legal thriller craze (and most of those films were from John Grisham novels) The Pelican Brief is a film about a young law student's theory about the assassinations of two Supreme Court justices...and it just happens to actually be true. The paper reaches the president through a chain starting with her law professor - who she's also sleeping with - and uncovers a conspiracy involving the chief executive. Thus, the government does anything and everything to kill her, including murdering everyone she comes in contact with. Also coming into play in this is Denzel Washington, a Washington newspaper reporter who agrees to meet with her and becomes involved, no doubt because of the incredible attention and readership it would bring to him. The acting is superb, shifting from drama to action film almost effortlessly. I don't normally go for legal thrillers all that much, but this one is an exception to the rule.
Derek Daniels
Super Reviewer