The Penalty
(1920)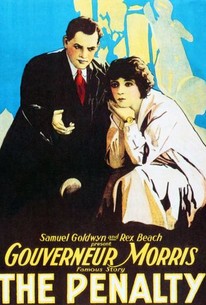 Movie Info
This picture, based on the novel by Gouverneur Morris, was a tour de force for Lon Chaney, who plays a legless kingpin of the Barbary Coast underworld. When Buzzard (Chaney) was a boy, his legs were amputated by an incompetent doctor; now that he's an adult, his goal is to get revenge on the doctor, to become the ruler of the underworld and to have someone else's legs grafted onto his stumps. But an operation on a blood clot in his brain converts his evil mind to one that wants to do good. Rose (Ethel Grey Terry), the secret service agent who has been keeping tabs on Buzzard, falls in love with him now that he has reformed and marries him. Buzzard's old associates, however, aren't so thrilled with the change and they murder him.
Critic Reviews for The Penalty
Audience Reviews for The Penalty
½
This movie was very predictable, but Cheney does a great job as usual in his strange role of a criminal kingpin without legs. The romantic part of it was good too, although sometimes unintentionally funny. But then the ending was really very sad. Overall it was pretty good, but it could have been better.
The Penalty Quotes
There are no approved quotes yet for this movie.