Penance
(2009)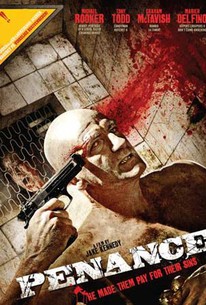 Movie Info
Inspired by actual events, Days of Darkness director\co-screenwriter Jake Kennedy's sophomore shocker tells the story of single mother Amelia (Marieh Delfino), who turns to stripping as a means of making ends meet and winds up the unwilling subject of a grim purification ritual. When sexy dancer Suzy takes a beating that leaves her unable to perform, she asks Amelia to cover her latest gig. Reluctantly accepting so her friend can convalesce, Amelia begins to grow uneasy when her driver (Tony Todd) taxis her to a dark and remote location. Once inside, Amelia finds herself imprisoned with a number of other unchaste women by a sadistic captor (Graham McTavish) who uses various torture methods to rid them of their impurities. Produced and co-written by Automaton Transfusion director William Clevinger, Penance also features Henry: Portrait of a Serial Killer star Michael Rooker. ~Rovi
Critic Reviews for Penance
Audience Reviews for Penance
On the one hand, it does take two separate horror sub-genres (Torture Porn & Found Footage) and mesh them together in a fairly unique way. But on the other hand, in practice all that means is it takes the worst parts of two already shitty devices and does them both. We get the nothing-plot and unnecessary brutality of the former coupled with the low quality and nonsense of the latter. If it's literally meant to be "found footage", why is there a musical score for the jump scares? Why is this woman who is clearly in her 30's telling the camera she is 24? And nobody could have saved how bad a lot of this script is, but the actors that they chose couldn't have pulled off a brilliant one. All the actors that is, except for Michael Rooker and Graham McTavish. Which brings me to Penance's one (kind of) redeeming feature: McTavish's Geeves. The villain of the piece is disgustingly horrific, and feels completely at odds with the lack of realism in the film surrounding him. He is a believable (and terrifying because of it) antagonist, and though it does not save the film at all, I cannot ignore the staying power of that character. There's that, some decent gore effects, and some girls get their kit off. But it doesn't come close to making up for the rest of what Penance put me through.
'Penance' is one of those films that sells itself as being "one of the most sadistic films ever made" and being "Terrifying", what it really is though is a pile of turd. The story revolves around a single mother called Amelia who desperately needs some cash, in hope of gaining said cash quickly Amelia becomes a stripper, after being promised $5000 for one nights work Amelia falls into a trap set up by a crazy ex-surgeon who is trying to purify strippers souls so they can pass into heaven, basically the whole story is a set up for torture, there's nothing wrong with that though, infact that's what I was expecting. One thing I want to say is that I'm not saying this film is crap because it is too disturbing and misogynistic, I mean, the full version of one of my favourite films is banned in most countries and is far more graphic and 1000000 times more misogynistic then 'Penance'. The reason this film sucks is because it does everything it intends to do it does wrong. First of all the start of the film is pretty slow, this is to add depth to the characters and make you feel for them, they all come off as idiots though, especially Amelia, she has to be one of the dumbest women of all time, why the hell would you stand around for 5 minutes having a conversation with someone when you are trying to escape? Oh, I know why, because you are a stupid bitch who thought stripping was the correct life choice to make. Next up there's the gore, it was terrible, what there was of it that is, for some reason the director thought it would be a good idea to make a torture porn movie which doesn't show any violence on screen, thus making the whole film pointless. There are obvious parts in the film that are meant to disturb, including a scene where a man cuts of his scrotum (offscreen of course), this scene is just one of the most unrealistic movie scenes of all time, I've never known a man to have balls the size of two potatoes, it's probably best he removed them as it looks like something is wrong with them, it's like he was smuggling two illegal tangerines around in his scrotum. Finally there's the ending, there's not much really to say about it apart from the fact it sucked. Overall here are my tips for the director (I haven't even been bothered to look up his name) - 1. If you're making a suposedly violent film it helps to put violence in it. 2. Hiring cult actors like Tony Todd doesn't make your film good, especially when their characters are crap. 3. Give up on film making. This film really wants to shock you but fails to even try, don't buy it because you feel like watching some torture (everyone does that right?) and lastly don't buy it because the quotes make it sound like it could be fun, infact here's a new quote for the Dvd cover "This film sucks".
Cameron Sherwell
Super Reviewer
Interesting story, elements of SAW of course, another one of those films you just have to watch out of curiosity once it begins. an "ok" watch but nothing that special.
Shawn Montague
Super Reviewer
Penance Quotes
There are no approved quotes yet for this movie.