Penn & Teller Get Killed
(1989)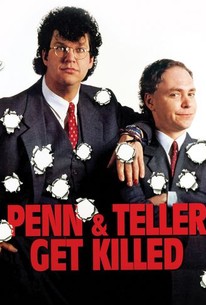 Penn & Teller Get Killed Photos
Movie Info
Penn & Teller are magicians who are known for putting on a jet-black, fake blood-soaked comedy magic show. This inky comedy is imbued with their off-beat humor as it chronicles Penn's newest scheme to have a fan try to kill him.
Critic Reviews for Penn & Teller Get Killed
All Critics (8) | Top Critics (1) | Fresh (2) | Rotten (6)
Revels in an atmosphere of consequenceless amusement, haunted by the intermittent realisation that its fun-loving heroes are really intolerable monsters.
I honestly have no idea what they were going for here, but they didn't make it.
November 5, 2004 | Rating: 1/5
Death becomes them.
January 2, 2004 | Rating: 5/5
Audience Reviews for Penn & Teller Get Killed
First of all...I can't believe Arthur Penn committed himself to directing a simply bad film like this. Throughout Penn's career he's been making serious films that was made for the times..."The Left Handed Gun", "The Miracle Worker", "Mickey One", "Bonnie & Clyde", "Alice's Restaurant", "Little Big Man", "Night Moves", "Four Friends". As the 1980's rolled along, Penn made the somewhat disappointing picture called "Dead Of Winter" starring Mary Steenburgen. Penn put all of his energy into making "Penn & Teller Get Killed". Possibly the worst film Penn has ever made in his entire filmmaking career. The plot is about two idiots named Penn & Teller who are a couple of famous magicians. They both travel and go on these adventures, play embaressing pranks on each other that is suppose to be funny to the audience but they're absolutely not, Penn (the tall one who wears a nail polish on his finger) is a loud mouth who tries way too hard to be comical, Teller is the guy who hardly says a word (until the end) and is just as bad as Penn when it comes to the comical, oh yeah and Penn has a spanish girlfriend named Carlotta (Carlotta from Vertigo?) played by Caitlin Clarke. This film doesn't have the decency to get a real spanish actress to play the role of Carlotta. Well nothing changes as the film progresses...Penn keeps yacking his loud mouth like an annoying school kid and Teller loves playing pranks on Penn. Anyone who actually liked this crap should clearly get their heads re-examined. Arthur Penn I never thought I'd say this but I am very disappointed with you... It wouldn't be the end...Penn would direct a made for TV picture named "Portrait" starring Gregory Peck and Laura Becall and he started executive produced TV drama's (Law & Order)
Unusual satirical dark humor movie, tense and comic. A rare Arthur Penn's jewel that is little know and misunderstood until these days.
Lucas Martins
Super Reviewer
Totally random and all over the place. I'm not going to say I didn't laugh, but I think saying the film is uneven would be an understatement. Worth it just to see Teller talk and for the Downfall-ish ending
Ken Stachnik
Super Reviewer
Penn & Teller Get Killed Quotes
There are no approved quotes yet for this movie.