Penny Serenade
(1941)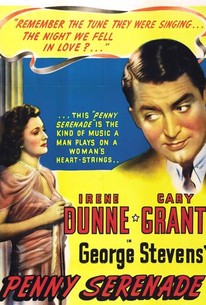 Movie Info
While listening to a recording of "Penny Serenade," Julie Gardiner Adams (Irene Dunne) begins reflecting on her past. She recalls her near-impulsive marriage to newspaper reporter Roger Adams (Cary Grant), which begins on a deliriously happy note but turns out to be fraught with tragedy. While honeymooning in Japan, Julie and Roger are trapped in the 1923 earthquake, which results in her miscarriage and subsequent incapability to bear children. Upon their return to America, Roger becomes editor of a small-town newspaper, just scraping by financially. Despite their depleted resources, Julie and Roger want desperately to adopt a child. It seems hopeless until kindly adoption agency head Miss Oliver (Beulah Bondi) helps smooth their path. Alas, their happiness is once more short-lived: their new daughter, Trina (Eva Lee Kuney), succumbs to a sudden illness at the age of six. Reduced to hopelessness, Julie and Roger decide to dissolve their marriage, but Miss Oliver once more comes to the rescue. Sentimental in the extreme, Penny Serenade is also enormously effective, balancing moments of heartbreaking pathos with uproarious laughter. Only director George Stevens could have handled a scene with a copiously weeping Cary Grant without inducing discomfort or embarrassment in the audience. Since lapsing into the public domain in 1968 (though released by Columbia, the film was owned by Stevens' production firm), Penny Serenade has become almost as ubiquitous a cable-TV presence as It's a Wonderful Life.
Critic Reviews for Penny Serenade
Audience Reviews for Penny Serenade
Love, marriage, and parenthood, all the bittersweet magnificence of life is on display in "Penny Serenade", a sentimental little film from 1941. Cary Grant and Irene Dunne star as the lovers who, as the movie opens, seem doomed to separate. As she's packing to leave her husband, she finds a box of old records and begins to listen to them. Each record is tied to a specific place and time in her mind, unlocking memories that show a relationship unfold as the movie progresses. The song she was playing at the record store where she worked when they first met or the song that reminded her of the time they spent living in Japan, each is a poignant little chapter in the lives of these two people. But why is she leaving her husband? The answer reveals itself slowly and tragically. It's said that the human body is simply a vehicle for genes needing to replicate (Agent Scully, X-Files, season 4, episode 2), so the suggestion is that a body unable to reproduce might lose its purpose. If I can find any fault in "Penny Serenade", it's that the ending is wrapped up a little too neatly and perhaps a little too callously. There are some things in life you can't just kiss and make better. There are some losses that can't be cooled with an ice cream cone on the ride home. Dunne and Grant both deliver career-highlight performances (Grant was in fact, nominated for an Oscar), and maybe the ending was an audience appeasement. After all, when we've invested so much emotion into the characters, it would be cruel not to give some light at the end of the tunnel.
Devon Bott
Super Reviewer
This is a very sentimental, sappy, but realistic drama of a young couple. It's good, but I'm not a big fan of the film, although I loved Grant in it.
½
Such a sad-y! My biggest problem with this film was the time passage in records. Cutting back to Irene Dunne and all she did was change records, circle into "a few years" later deal and it got old. There are better ways to tell passage of time. That aside, Cary Grant's cracking voice in the courtroom teared me up. The man is such an acting god.
Jennifer D
Super Reviewer
Penny Serenade Quotes
There are no approved quotes yet for this movie.