The Pentagon Papers
(2003)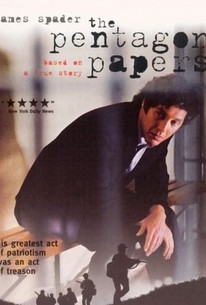 AUDIENCE SCORE
Critic Consensus: No consensus yet.
The Pentagon Papers Photos
Movie Info
It was certainly no coincidence that the made-for-cable historical film The Pentagon Papers was timed for released just when America was poised to wrestle with the question as to whether or not the President had the right to declare war on Iraq without full congressional and/or United Nations approval. The film covers several decades in the life of Harvard graduate Daniel Ellsberg (James Spader), who as a Pentagon official during two presidential administrations regards himself as patriotic as the next fellow. According to the unabashedly slanted teleplay by Jason Horwitch, it is this sense of patriotism that compels Ellsberg to release a 7,000-page classified report to The New York Times and The Washington Post, revealing that the official story of America's "success" in Vietnam was both exaggerated and distorted, and that the public has been egregiously misled for years. As a result of this act, Ellsberg, whose family life has already been destroyed by his devotion to his work, faces charges of treason from the Nixon administration. Ironically, it is Nixon's reaction to Ellsberg's security breach which leads him to create his team of gap-stopping "plumbers" -- who would of course bring about the President's downfall with the Watergate scandal. Surprisingly, The Pentagon Papers premiered March 9, 2003, over the FX network, a cable service owned by the markedly conservative Rupert Murdoch.
Audience Reviews for The Pentagon Papers
The limitations of its production are felt (made-for-TV, small budget) with overly brief characterizations and the often rushed scenes, but the true story is a timely and powerful one, and the film does a pretty good job covering the impact of what Ellsberg did, and the risks he was taking. James Spader really carried the film with his performance, and was helped by the always reliable and engaging Paul Giamatti. 3/5 Stars
Jeffrey Meyers
Super Reviewer
The Pentagon Papers Quotes
There are no approved quotes yet for this movie.