People I Know
(2003)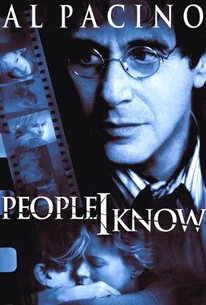 Movie Info
A powerful behind-the-scenes man in politics and show business finds himself skidding into a very public scandal in this taut drama. Eli Wurman (Al Pacino) was raised in the deep South, attended Harvard Law School, and has devoted his spare time to progressive political causes since working alongside Dr. Martin Luther King Jr. in the 1960s. However, Wurman now makes his living as a press agent and PR man, and while he's near the top of his profession, years of overwork, constant smoking and drinking, and ceaseless tension are taking their toll, leaving him on the verge of collapse, with only the prescriptions of his friend Dr. Napier (Robert Klein) keeping him on his feet. One of Wurman's biggest clients is Cary Launer (Ryan O'Neal), a fading film star with political aspirations who, after attending a disastrous Broadway opening, asks Wurman to do him a big favor -- bail Launer's girlfriend, Jilli (Téa Leoni), out of jail and keep an eye on her. Wurman manages to get Jilli out of the stir, but she insists upon being escorted to an exclusive sex and opium den for a night of heavy drinking and drugging, and then reveals to Wurman that she owns a device which she's used to record footage of the most public figures who attend the club, including Elliott Sharansky, a billionaire Jewish civic leader (Richard Schiff). That night, a half out-of-it Eli accompanies Jilli back to her hotel room when an intruder barges in and forces an overdose on her, killing her instantly. The next morning, Wurman has only fuzzy memories of what transpired. He decides to focus on his attempts to set up a political fundraiser, but has a hard time getting the right A-list celebs to appear, just as many of New York's power brokers aren't especially interesting in working with Wurman or Launer. In the midst of this chaos, Victoria (Kim Basinger), who was married to Wurman's late brother, arrives in New York and urges him to leave the city and his career behind while he still can. People I Know was screened in competition at the 2003 Sundance Film Festival. ~ Mark Deming, Rovi
Critic Reviews for People I Know
Audience Reviews for People I Know
Though the films themselves stylistically are completely different, the basic plots of "People I Know" and "Carlito's Way" are the same. Here, rather than a gangster, Pacino plays a burnt-out publicist eager to escape his shady way of life but, like Carlito, doomed never to do so. The story doesn't ever really get going but the acting is an absolute treat, with Pacino giving an immaculate performance, truly one of his finest ever.
People I Know Quotes
There are no approved quotes yet for this movie.