People Places Things
(2015)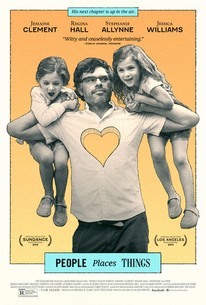 TOMATOMETER
AUDIENCE SCORE
Critic Consensus: People Places Things finds writer-director Jim Strouse in peak form -- and makes the most of talented stars who help breathe fresh life into familiar narrative territory.
People Places Things Videos
People Places Things Photos
Movie Info
Will Henry is a graphic novelist and a professor in NYC. At his adorable twin girls' fifth birthday party, Will's life is turned upside down when he walks in on the mother of his children, and longtime girlfriend, Charlie, with their friend Gary. One year later, Will is still alone and trying to put his life back together. He finds unexpected challenges when his talented student Kat tries to set Will up with her accomplished mother Diane. In this thoughtful comedy, Will is forced to navigate the unknown landscape of single fatherhood and dating in New York City, while remaining an inspiration for his students and coming to terms with himself both as a father as an artist.
News & Interviews for People Places Things
Critic Reviews for People Places Things
Audience Reviews for People Places Things
loved this film, simple but effective story just done one hundred percent correct. This is the type of film that misses the mainstream audience and deserves a cult following. Really funny, heartfelt look at divorce and the life we live after everything falls apart. Films like this remind me why I got into filmmaking in the first place
Brendan O'Connor
Super Reviewer
James C. Strouse is best known for films following men's transformations via either personal growth or an unforeseen event in their lives. Mostly known for being the screenwriter on the indie films "Lonesome Jim," "Grace is Gone," and "The Winning Season," Strouse directed and wrote this tale of a graphic artist who has to piece his life together after his partner cheats on him and breaks apart his family. Alone and embittered, our main character Will (Clement) has to learn how to balance his new life with raising his twin daughters, having a new relationship with his ex, writing a new novel, and engaging with a literature professor from Columbia who throws him for a loop. Threaded together by Will's drawings, this little indie comedy fuses together the drama of a mixed family, and the absurdity of what life throws at us. Read more at www.bluefairyblog.com
Spencer S.
Super Reviewer
½
This is a film that does not have an original bone in its body, and this goes back to a film I reviewed a couple of days ago, called 100 Days, where I said that the fact that it isn't original isn't that much of an issue when you have other strong elements backing you up. Whether that is the performances, the writing, cinematography, etc, etc. And that is the case with this movie, there's absolutely nothing about this that is completely unique to this. I don't wanna say it borrows from other films, but it's familiar to films that you've seen in the past and will very likely see again. What it does have, however, is a really strong cast and a damn good script that does a lot to elevate this film from its familiar narrative ground. One of the things I liked about the movie is that, in a lot of these, the other parent, upon leaving for another person, is almost always made out to be an asshole. While I think the perception from some people will be that Charlie was kind of a bitch for how she left Will, and she definitely did go about it the wrong way, but I think there's so much more to what happened than just Charlie cheating on Will during their twin daughters' fifth birthday party. I'm not saying the film is super complex or deep, but I think it does make sure so as to not completely oversimplify the characters to just being a one-word description. What was disappointing, however, is that the film, sort of does away with Will's relationship with his daughters after he drops them off at Kat's mother's place, Kat being one of his students. After that, the movie just sort of forgets about them and their role in Will's life and they focus more on his romantic life. Not that there's a problem with that, in theory, it's just that the stuff with Will and his daughters is actually some of the best stuff in the film because it feels so natural. I don't think it gives in to sentimentality as much as you'd think given that Will is trying to do anything he can to spend as much time with his daughters, so that's always a positive. But, like I said, the film gets rid of the daughters after a certain point and I thought that was a little disappointing. Not that the romance elements of the film were bad, because they're actually better than what you're used to, but I liked how they balanced the two parts of Will's life. So this is definitely not without its flaws, but I really enjoyed this movie. It's a movie that's really easy to watch. It's unpretentious and it moves at a real fast pace, I was actually almost surprised by how fast this film went by. But I digress, a really strong cast and great writing help make up for a lot of its issues. It's not perfect, but I would definitely recommend it.
Jesse Ortega
Super Reviewer
People Places Things Quotes
| | |
| --- | --- |
| Kat: | Mr. Henry, are you OK? |
| Will Henry: | Yes. I've just been having a bad life. It will be over eventually. |
| | |
| --- | --- |
| Will Henry: | Life sucks because my wife left me for an off broadway monologuist. |