The People Vs. Larry Flynt
(1996)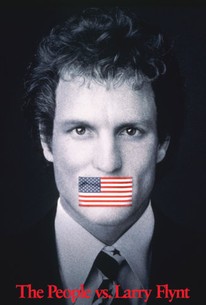 TOMATOMETER
AUDIENCE SCORE
Critic Consensus: The People Vs. Larry Flynt pays entertaining tribute to an irascible iconoclast with a well-constructed biopic that openly acknowledges his troublesome flaws.
The People Vs. Larry Flynt Videos
The People Vs. Larry Flynt Photos
Movie Info
True story tale of Hustler magazine's creator Larry Flynt and his fight against the system when censorship mongors attempt to shut him down. Makes for good drama with excellent performances from Harrelson and Love.
Critic Reviews for The People Vs. Larry Flynt
Audience Reviews for The People Vs. Larry Flynt
Milos Forman's The People Vs. Larry Flynt is a stunning drama about Larry Flynt, and the founding of the now famous porno magazine Hustler. At the heart of its story is not only the rise of Flynt, but also the right to free speech, which makes this a well layered drama that tells a truly engaging story. With great performances by Woody Harrelson in the lead role, Courtney Love and Edward Norton, The People Vs. Larry Flynt is a well crafted movie that Forman manages to keep you engaged due to a well written script that really sucks you into its story. Forman is one of my favorite directors and his dedication to the genre of film has made him one of the finest directors in the medium. The film presents a very interesting topic, one that is scared for everyone that is disgusted at censorship. Even if you don't agree with what Flynt has done in terms of his profession, you can agree that it is up to yourself to decide what is in good taste and what is not. I won't state my personal beliefs on Larry Flynt, but the film here works very well because not only is it an interesting story that is well acted and entertaining from start to finish, but it holds the values of free speech at its core, and that's why it's such a compelling film. I really enjoyed the film, and thought that the performances were top notch, the direction was immaculate and that it was a well made picture that shouldn't be seen as just the rise of a porn entrepreneur, but as a picture display the beauty of free speech and how it comes to protect us due to the fact that we are free to choose certain things for ourselves. Milos Forman has had a great filmography, and this film is yet another strong film to add to it. The People Vs. Larry Flynt is a great drama that definitely shouldn't be missed.
Highly engrossing biopic about the life and career of controversial porn mogul Larry Flynt. Besides the man in focus, it's also a story that depicts the struggle for one of the most fundamental corner stones in any given democracy: the right to free speech and publication. We follow Larry through his successes and failures, and the playboy (or rather to say Hustler) lifestyle that ultimately drives him into some serious conflicts with both his inner circle and official opponents. Superlative performance by Woody Harrelson, who does the title role so well, you'd think he was born for the job. I was also pleasantly surprised by Courtney Love, who is exceptional as his devil-may-care girlfriend. Granted that she pretty much plays herself, what with the drug addictions and all, but she still deserves an eulogy for her impressive acting. There's a lot of sex and nudity in the film, as can be expected, but nothing I'd label as gratuitous or redundant in any way. Rather, it serves a motivated purpose, while simultaneously treating us to some R-rated delights. Be sure to keep your eyes open for a cameo by the real Larry Flynt, who ironically plays a judge who is anything but dispositioned on letting his fictional self off the hook.
½
Quite a powerful film in regards to the First Amendment which gives us the right of free speech and press which is exactly what this film revolves around. It is the story of Larry Flynt's pornographic films and magazines; most notably Hustler which really made him the entrepreneur he is. Flynt loses the use of his legs due to an assassination attempt confining him to a wheelchair. Woody Harrelson stars as Larry Flynt and turns in a fine piece of character work. The brilliant Edward Norton portrays his lawyer Alan Isaacman which allows for first rate acting on both counts. And I must mention Courtney Love's brilliant portrayal of Flynt's drug addicted wife Althea. I think one thing that gives this film it's strength is that it proves the point of the industry that is often frowned upon, but is within the rights of every citizen should they wish to be involved in it. "If the First Amendment will protect a scumbag like me, it'll protect all of you- 'cause I'm the worst." Larry Flynt
The People Vs. Larry Flynt Quotes
There are no approved quotes yet for this movie.