People Will Talk
(1951)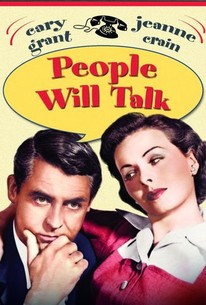 Movie Info
People Will Talk was less a movie than a conduit for the genteel liberalism of screenwriter/director Joseph M. Mankiewicz. Cary Grant plays Dr. Praetorius, an unorthodox medical professor at a sedate midwestern college who seems more interested in the human soul than in the cold facts of the human body. Praetorius' nemesis is a conservative rival doctor (Hume Cronyn) who presses for an investigation of our hero's clouded past--with special emphasis given the mysterious old man (Finlay Currie) who lives with Praetorius and waits on him hand and foot. In the course of the film, Praetorius falls in love with one of his students, an unmarried pregnant girl (Jeanne Crain). At the climactic hearing concerning Praetorius' fitness, the presiding judge (Basil Ruysdael) decides that Praetorius' "modern" methods are more worthwhile than the pragmatic, cut-and-dried theories of his enemies. Based on a German play by Curt Goetz, People Will Talk is a bit too proud of its own cleverness, with Mankiewicz' political planks being wedged in at all the inappropriate times (while conversing with the father of the pregnant girl, Praetorius launches on a gratuitous attack against farm subsidies!) Still, the film is ten times more intelligent than most of Hollywood's 1951 output, and contains one of Cary Grant's best and subtlest seriocomic performances. Bonus: In the first scene of People Will Talk, the snoopy lady who brings Praetorius' "shady" past to the attention of Hume Cronyn is played by an uncredited Margaret ("Wicked Witch of the West") Hamilton.
Critic Reviews for People Will Talk
Audience Reviews for People Will Talk
½
An unusual Grant film, as he plays an unorthodox doctor (one who cares about his patients with a capital "C"), filled less with comedy than with preaching. And talk about implausible, the work is ripe with unbelievable actions, unbelievable motivations, unbelievable conclusions. In point of fact only the presence of Grant allows this tripe any hearing time at all. And the film is well aware of that fact.
Kevin M. Williams
Super Reviewer
A doctor treats and loves a pregnant woman amid scandals about the morality of his past. Predictable but charming, Joseph L. Mankiewicz once again proves why he's one of my favorite classic directors. His stories are tightly constructed, and the performances by his actors are always fun but with a kind of depth that many directors of his time weren't able to manage. Cary Grant, the great gentleman of classic film, is alternatively charming and petulant, able to convey a strength of character that is absent in present-day movie stars. I would have liked the film to be more morally ambiguous. The entire question of the film is whether or not Grant's character harbor some deep, black secret (as though one could be such a question on Grant), and by the time we realize he's as pure as he purports to be, it's like we been shown a box that contains a treasure, but once the box is opened, we discover it's only a scrap of paper reading, "Fooled you." Overall, I enjoyed People Will Talk, but the compelling story is not flawless.
Jim Hunter
Super Reviewer
½
A film that is less about the comedic prowess of the incomparable Cary Grant or even about the semblance of a plot, and more of a political and moral tale that addresses very little and pushes the envelope for its time. Director Joseph L. Mankiewicz pulls some truly rash decisions in writing the dialogue for this film, in times being cute and full of genuine humor and at others being obviously and obnoxiously interested in singular political dealings. Grant is usually either a debonair action hero, sweet tempered authority figure, or a romantic lead. He has many faces, many characters that flourish from witty scripts and beautiful leading ladies. Here his character is so flat and uninteresting that there is little to hold on to. He is depicted as a doctor and professor who cares for people and...that seems to be it. He's good. That is his sole characteristic, and he plays it to the best of his wholesome ability. Pair that with the situation of an unmarried young woman who he falls in love with and you would think there would be calamity, chaos, and comedy throughout. Instead it's this long paced, overwrought piece of American influence, rather than a film about anything that really matters. The chemistry between Grant and Crain is basically nonexistent. He pities her, they have a couple of trite conversations and he secretly, quietly marries her. The rest of the film is killing time to build the ending up to a gravitas level. The ending itself is also long and makes little sense to the rest of the film. It's just as pointless and self indulgent as the rest, though it references back to the beginning with a conservative professor who tries to foil him which goes nowhere. Though it is slow and overtly heavyhanded, some of the supporting characters are quite quirky and eccentric, but it's not a film that finds its humor in wit or even pratfalls but built up oddities and humorless storytelling. The entire point of the film or even its moral is lost or nonexistent. There is very little to enjoy in this except another goofy Grant performance where he lets himself become childlike in front of the camera. Still, it's little consolation for a life lesson that was unwanted to begin with.
Spencer S.
Super Reviewer
People Will Talk Quotes
There are no approved quotes yet for this movie.