Pépé le Moko
(1937)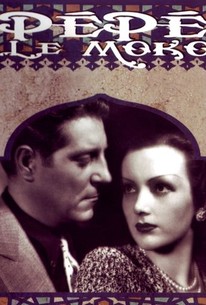 Movie Info
In this film, Pepe le Moko is a well-known criminal mastermind who eludes the French police by hiding in the Kasbah section of Algiers. He knows that he is safe in this labyrinthine netherworld, where he is surrounded by fellow thieves and cutthroats.
Critic Reviews for Pépé le Moko
Audience Reviews for Pépé le Moko
½
Famous French jewel thief Pepe is hiding out in the Casbah in North Africa where he has become the boss of everything ... except his own life, because if he tries to leave the multi-diversity enclave of crooked streets and rooftops the police'll see he does 20 years at the very least. After 2 years the poor guy is going crazy thinking that it'd be better to be nobody back home in the City of Lights than to be king in the African stronghold. With the usual suspects as henchmen, and beauties as alluring bait, this old black and whiter is chock full of nuance, subtlety, and romance. Very entertaining.
Kevin M. Williams
Super Reviewer
Okay foreign movie, but I should really watch it again before I write more about it.
atmospheric and cynical proto-noir with an iconic performance by jean gabin as the tragic antihero trapped by his illusions. just a few years later, hollywood would remake this almost shot for shot as algiers with charles boyer, changing only the ending. fools. btw this was released in 1936, not 1941 as flixster would have us believe
Stella Dallas
Super Reviewer
Pépé le Moko Quotes
There are no approved quotes yet for this movie.