Peppermint
(2018)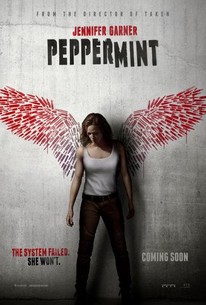 TOMATOMETER
AUDIENCE SCORE
Critic Consensus: Far from refreshing, Peppermint wastes strong work from Jennifer Garner on a dreary vigilante revenge story that lacks unique twists or visceral thrills.
Movie Info
Peppermint is an action thriller which tells the story of young mother Riley North (Jennifer Garner) who awakens from a coma after her husband and daughter are killed in a brutal attack on the family. When the system frustratingly shields the murderers from justice, Riley sets out to transform herself from citizen to urban guerilla. Channeling her frustration into personal motivation, she spends years in hiding honing her mind, body and spirit to become an unstoppable force -- eluding the underworld, the LAPD and the FBI -- as she methodically delivers her personal brand of justice.
Critic Reviews for Peppermint
Audience Reviews for Peppermint
½
Jennifer Garner is out for revenge in the action-packed thriller Peppermint. When the killers of her husband and daughter are set free by a corrupt judge Riley North goes off the grid and returns on the five year anniversary of her family's deaths to get her own justice. Garner is excellent in this role and brings a lot of intensity to her performance. And the action sequences and fight scenes are extraordinarily exciting and dynamic. Yet, the film refrains from any gratuitous blood or gore; keeping the violence quick and rapid as North methodically takes out henchmen. Incredibly entertaining, Peppermint is a high-adrenaline action-film.
Dann Michalski
Super Reviewer
½
The most "early-2000s" movie of 2018.
Philip Price
Super Reviewer
½
I invite all my readers to re-watch the trailer for Peppermint and apply this simple listening test. It opens with Jennifer Garner repeating the precious nursery rhyme claim about her daughter's virtues. She has "love in her heart, snow in her eyes," and the final claim, "peppermint in her blood." At least I'm certain it's got to be "blood," because the first time I watched this trailer and my ears got a hold of that line, it genuinely sounded like Garner was saying "peppermint in her butt." This flummoxed me and even more so that they would name the movie after this. Try it yourself and see what you hear, then listen for the other word (it's like the new yanny/laurel aural conundrum). If I concentrate on either interpretation, I can hear it. Regardless of whether this "butt" vs. "blood" mystery can ever be resolved, the filmmakers decided to cut the entire verbal exchange from the finished version, leaving no reason for Peppermint to be called Peppermint other than the daughter's passing affinity for the ice cream flavor. As asinine and odd as this whole endeavor reads for you, this might actually be the best part of Peppermint, a rote and tiresome action exercise that does too little too often and squanders the resources of a perfectly game Garner. Our heroine, Riley North (Garner), started as mild-mannered mom and bank teller. Then one day Latinx gang members brazenly gun down her husband and child. A corrupt legal system lets the killers go free and Riley disappears for five years. When she returns, she's become a ninja trained in an array of weapons. She takes her one-woman crusade against the gang, the cartel, and the corrupt judges and lawyers who serve them, while the police, lead by John Gallagher Jr., try and stop her from going too far and becoming the very monster that she's been fighting to protect others from. This is basically another Death Wish-style grisly revenge thriller when, as a true sign of how repeated this formula has become, we already even had a literal Death Wish remake with Bruce Willis earlier in 2018. It's easy to understand the appeal of the lurid revenge fantasy, but they require more effort than Peppermint is willing to provide if they're to rise above the litany of direct-to-DVD drivel. I'm in no way against this kind of movie, or direct-to-DVD action entities, but it all comes down to development and execution, and that's where Peppermint slips up, having peaked at the idea stage. Clearly this was sold to film executives as a "lady Punisher or Taken" and it's from the director of the first Taken, Pierre Morel. Garner was kicking (peppermint) butt and taking names for years on TV's Alias. Why not? The problem is that there's so little thought put to the characters, the plot, the action, and even the structure of basic payoffs. Here's a telling example. The three gang members responsible for killing Riley's family are themselves killed around the 45-minute mark, and they're killed off-screen in a terribly anti-climactic and abrupt plot move robbing the viewer of any sort of emotional punch watching our heroine gain her years-in-the-making vengeance. Think this over. The only characters we're really rooting for her to topple, to watch them be punished on screen for their misdeeds, and it's off-screen. This isn't No Country for Old Men here; it's barely the eightieth rendition of Death Wish. Garner's character is too opaque to be that interesting. She's allowed to vacillate between Grieving and Angry but that's the extent of her depth. We never really get a sense of what's going on with her, how her actions are affecting her. She's not even that interesting as an action lead. There's no real glimpse of a personality here. She's more a weapon poised to her next target, with little down time between. Garner gets into toned fighting shape and has a flinty, F-you vibe and it all feels wasted on creatively lacking fight choreography. Riley becomes a social media avenger and this is about as much commentary or depth the film affords her. Because we squandered the catharsis of seeing the guilty gang members get their just rewards, the movie has to manufacture more disposable Latinx criminals, like they put out a casting call for characters they forgot they were going to need. From a structural standpoint, you never get a great sense of where Peppermint is going after that 45-minute mark. It just opens on one location after another and we watch Riley wreck havoc on personality-free bad guys we never got a chance to know and loathe. It starts to feel like a series of mundane video game stages to be cleared. Many of the shortcomings can be forgiven if the action delivers, and it simply cannot. It's one bland fistfight and shootout after another. There isn't a sequence I can remember that stands out. There are moments, punctuations of vicious violence that has a brusque, darkly comic accentuation. There's nothing remotely John Wick, or Atomic Blonde, when it comes to the fight choreography. The geography is too rarely taken into account and there are few organic complications. This is flabbergasting when you remember that Morel also directed the vividly kinetic French action movie District B13. The editing here also feels very choppy, taking more away from Garner's physical skills having their showcase. One of the great moments of 2017 was the brutal and brutally long tracking shot following Charlize Theron's super spy pummeling men through her growing fatigue. It was a sequence designed to showcase the choreography and the actress' refined skills. What constitutes Riley North's own "particular set of skills"? There's nothing especially clever about how she dispatches with the bad guys. Her path to vengeance comes across as too easy. She's able to torch an entire piñata warehouse of gang members like a cheap... piñata. The easy victories and lazy action development are the final reminders that this is a rote genre paycheck and little more. Whether the peppermint was in her daughter's blood, her butt, or any other personal cavity, it's a terrible title for an R-rated action movie and reeks of the forced sweet/nasty irony I think the filmmakers, or marketing team, want to employ by having a woman as their Charles Bronson-styled deliverer of death and destruction (what, a woman as a killer?). The action is forgettable, the characters are barely one-dimensional clichés, and Garner deserves better. She's 47 years old and as spry and captivating as ever. Give her an Atomic Blonde of her own. Peppermint isn't it. If your expectations are generous, you may find just enough to keep your interest with Peppermint. It left me with a bad taste in my mouth. Nate's Grade: C-
Nate Zoebl
Super Reviewer
Peppermint Quotes
There are no approved quotes yet for this movie.