Perdita Durango
(1997)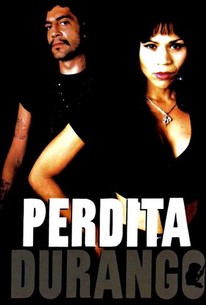 Movie Info
The title character of this Alex de la Iglesia film made her first appearance in David Lynch's Wild at Heart (1990) and was originally played by Isabella Rossellini. Rosie Perez takes over the role in this blend of black comedy, graphic sex and violence, voodoo, and weirdness. Perdita Durango is pure trash, a fact she establishes at the film's beginning. Her adventures begin when she hooks up with Romeo Dolorosa (Javier Bardem), a sleek, black-clad, sexually adventurous practitioner of Santeria who routinely kills, robs banks, and steals corpses from graves for his cannibalistic blood-soaked rituals. Santos (Don Stroud) is a pedophile and a crime boss. He hires Romeo to steal a truck filled with human fetuses that are slated to be used for cosmetic experiments. Romeo accepts but feels he must make a human sacrifice before he goes. This bothers Perdita not a bit and she even picks out a pair of blonde teens for the ritual killing. The two crooks kidnap the kids, ritually feather them, sexually abuse them, and are preparing to kill them when Romeo's cheated partner shows up with policemen. The crooks and their prey manage to escape, but the scheme to commandeer the truck gets botched and an ensuing shootout between Santos' men and DEA agents goes wrong. Santos loses many men and swears revenge upon Romeo and Perdita, who continue on their journey with their two doomed victims.
Critic Reviews for Perdita Durango
All Critics (11) | Fresh (4) | Rotten (7) | DVD (4)
...a hard core cult item and a wild ride, Perez and Bardem's utterly fearless performances crowning them as one of the great cinematic criminal couples.
This intermittently interesting film does provide yet another opportunity to marvel at Bardem's incredible range.
The film would have better off staying with the comic tone, for that's what de la Iglesia does best--and where his interests clearly lie.
Audience Reviews for Perdita Durango
½
I was curious to see this after recently seeing the director's 2010 film 'The Last Circus', which I loved. Unfortunately there's not much that I enjoyed about this one. I will seek out the director's other works though.
½
Following the success of El Dia De Bestia and Acción mutante, once again the director pursues the nature of dark obsession. The two main leads are dysfunctional amoral sadists who re in some ways rediscovering a part of them that they miss - love. It's a story of trying to move on but the main characters are very amoral however there's darker circles than them, which pulls them further down the spiral. In essence this movie is an antithesis of a glamour Mafia movie and I believe represents Mafia dealings in a very dark fashion. In some ways I believe there's a nod to David Lynch with the actor playing the Mafia boss. The film is not a sick puppy nor is it banal. For those that have followed this director they will read between the lines to discover some salient points of US government intervention out of the states and human traffic - in this case embryos used for beauty products. Like 'clean Madrid' in El Dia de Bestia there were fascist movements in the capital at the time. Iglaisia puts this on the screen as a cultural reminder. Watching this movie at face value will seem very ultra violent and in some places extremely disturbing. Unlike other cult producers like Tarintino Iglasia uses a loot of cult cultural references to make his films extremely dark and funny (like La Communidad). If you're Latin or Spanish I feel there would be a lot more in this movie for you. Recommended viewing - but not for the faint hearted.
Cassandra Maples
Super Reviewer
½
A flawed affair from Alex de la Iglesia that benefits from one thing: Javier Bardem playing a crazy ruthless mexican santero who rapes american teen girls and makes human sacrifices. Bardem owns the movie in every way.
Tsubaki Sanjuro
Super Reviewer