Perfect Creature
(2006)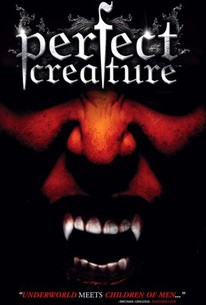 AUDIENCE SCORE
Critic Consensus: No consensus yet.
Movie Info
Dougray Scott, Saffron Burrows, and Leo Gregory star in director Glenn Standring's tale about vampires and humans peacefully co-existing in an alternate-universe, 1960s-era New Zealand, and the chaos that unfolds when a mysterious influenza epidemic begins sweeping through the human population. Nuovo Zelandia is a land where humans and immortals live side by side in harmony, the immortals representing the next phase in human evolution. When a virulent influenza virus begins infecting the mortals and a renegade vampire named Edgar resorts to feeding on their blood, the church dispatches Silas (Scott) on a mission to capture the murdering vampire and restore the delicate balance that once held their community together. Aided in his mission by a human police captain (Burrows) who isn't willing to let any more of his fellow men fall, Silas soon discovers that his mysterious target harbors some deeply disturbing secrets.
News & Interviews for Perfect Creature
Critic Reviews for Perfect Creature
Audience Reviews for Perfect Creature
½
Perfect Creature was one of those films that I had high hopes for. Unfortunately, I was let down, and left very disappointed in what I saw. The film had the potential something terrific, but instead it's a total mess of a film. The concept of the film, I have say was very good, unfortunately the execution of a good story, never develops and the film is awful. Which, I think is a terrible thing because the idea of the films plot was very original and intriguing. However, the direction the film takes is poor, and director Glen Standring seems like he can't direct anything good about his interesting script. This had to be the most interesting twist on vampire mythology in quite some time, it's a great shame that the cast and plot don't deliver despite the promising idea for the plot. The films problem is that there's a great concept at work here, but everything else is boring, uninteresting and in the end it makes you bored out of your mind. I think Perfect Creature is one of those films of which had the potential of being so much better than what it turned out to be. This just goes to show that when a director with no experience helms a film with a good concept like this, it ends up being a total dud. As a vampire film, Perfect Creature fails despite the good idea for its plot.
I really thought I would like this. It has a good idea for a story with a vampire race living along side humans in an alternate world. That was one of the let downs as the alternate world is like a mish mash of Victorian times mixed with 60's technology, steam powered cars? Why this setting? Could have been a lot better along the line of Underworld, Equilibrium.....but falls way short.
It reminded me of Underworld, though the two plots are very different, mainly because the world they create is perhaps the most interesting thing about the film for me. Otherwise, despite the few touching moments I couldn't find any real interest in the plot, or the characters. The one thing that could work when all this fails - the sex appeal - was also absent. Nice idea, shame about the result.
Perfect Creature Quotes
There are no approved quotes yet for this movie.