The Perfect Man
(2005)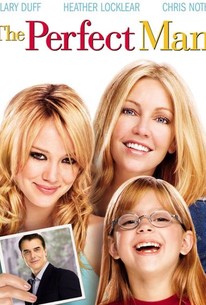 TOMATOMETER
AUDIENCE SCORE
Critic Consensus: Preposterous and predictable, The Perfect Man manages few laughs with its poorly paced sitcom script, cookie-cutter characters and contrived plotting.
Movie Info
Teenager Holly Hamilton (Hilary Duff) is tired of moving every time her single mom Jean (Heather Locklear) has another personal meltdown involving yet another second-rate guy. To distract her mother from her latest bad choice, Holly conceives the perfect plan for the perfect man...an imaginary secret admirer who will romance Jean and boost her shaky self-esteem. When the virtual relationship takes off, Holly finds herself having to produce the suitor, borrowing her friend's charming and handsome Uncle Ben (Chris Noth) as the face behind the e-mails, notes and gifts. Holly must resort to increasingly desperate measures to keep the ruse alive and protect her mom's newfound happiness...almost missing the real perfect man when he does come along.
News & Interviews for The Perfect Man
Critic Reviews for The Perfect Man
Audience Reviews for The Perfect Man
Really enjoyed this film! A great feel good film!
Bethany Murphy
Super Reviewer
Holly Hamilton(Hilary Duff) is tired of moving from place to place because of her mother's failed relationships. They move to Brooklyn & Holly's mother takes a job in a bakery ran by her friend Dolores. So Holly, her mom Jean (Heather Locklear) & Holly's sister Zoe (Aria Wallace), are again getting a chance to start over there lives in Brooklyn. Holly makes friends with the rebellious Amy Pearl (Vanessa Lengies) & the cute but somewhat shy Adam Forrest (Ben Feldman). One day they go to Amy's uncles restaurant, The River Bistro, ran by her Uncle Ben (Chris Noth), who is a firm believer in romance. He tells Holly, who is a cynic when it comes to love, about the ways to a woman's heart. This prompts Holly to create what she thinks is "the perfect man". With the help of Amy & Adam, she does various things to make her mother believe that she has a secret admirer that adores her. Whenever Jean starts to get suspicious about Ben (supposedly her secret admirer), Holly has Adam call her mother & pretend to be Ben & break up with her. The plan fails when Adam is thinking about Holly while making the phone call. In the end everything is a disaster & Jean is left broken hearted & Holly is a mess. Holly then tells her mother that she wants to move & her mother reluctantly agrees. When Adam comes by to find Holly, Jean tells him that she is out getting packing boxes because they're moving. When she asks if she should tell Holly that Adam came bye he gives Jean a drawing to give to Holly & to tell her that there was another side of a drawing that he drew for her. On the back of the first drawing is a drawing of Adam & Holly & the quote coming out of Adam's mouth is that he'll always be there for Holly. Later on whenever Jean is online, she talks to Adam pretending that she's Holly & she finds out the Adam is in love with Holly. The next day Jean decides that they're not moving at first Holly is upset but after she sees Adam's drawing she is happy again. Jean finally meets Ben when he comes to her bakery & even though she tells him that she's not dating at the moment he says that he'll pick her up at eight on Saturday & she agrees. The ending of this fabulously cute & charming movie is Holly going to a dance with Adam. She takes his breath away when he sees her in her beautiful red dress. In the end Holly & her family are finally happy & are settled down in Brooklyn. This is the perfect movie to watch with your best friends & your mom & sister. I recommend it! :) You won't mind looking at Ben Feldman or Chris Noth either! :)
Cassie Hill
Super Reviewer
The Perfect Man Quotes
There are no approved quotes yet for this movie.