The Perfect Score
(2004)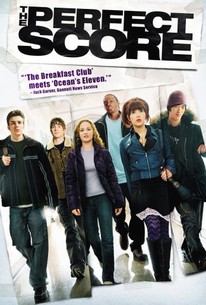 TOMATOMETER
AUDIENCE SCORE
Critic Consensus: Neither funny nor suspenseful, this heist / teen flick also fails to explore its potentially socially relevant premise.
Movie Info
Produced by MTV Films, The Perfect Score is a teen crime comedy about a group of high school students who decide to steal the answers to the SAT exam. Kyle (Chris Evans) wants to be an architect, but his scores are too low to get into the school of his choice. Matty (Bryan Greenberg) is heartbroken when he is rejected from the school to which his girlfriend goes. Good girl Anna (Erika Christensen) is pressured by her parents to excel in academics and remain innocent. Desmond (Darius Miles) is a basketball player who believes the SAT exam is racist. Rounding out the group is gutsy Francesca (Scarlett Johansson) and lonely Roy (Leonardo Nam).
News & Interviews for The Perfect Score
Critic Reviews for The Perfect Score
Audience Reviews for The Perfect Score
[img]http://images.rottentomatoes.com/images/user/icons/icon14.gif[/img] I have no doubt in mind that The Perfect Score could have been an effectively edgy and thrilling heist movie, unfortunately it falls to tongue firmly in cheek humour and a lack of epic set pieces. But at times it can be pretty funny, except most of the time it is it's nothing more than mildly amusing. The premise is intelligent, the film not so much but it helms characters you can care about, brilliant performances by Scarlet Johanson and Chris Evans before they did The Avengers and score's a reasonable amount of laughs. However it often suffers staggeringly from the jokes that miss the punch line and the wooden acting of the supporting cast, and a huge lack of action, but what it executes perfectly that a lot of other caper movies are often incapable of doing is maintaining a light enough tone of seriousness. And in addition managing to make the comedy gags inbetween the important plot points work. Overall the chemistry of the ensemble and the handful of funny moments just about class The Perfect Score as a sucessful but unremarkable heist. I enjoyed it a huge amount more than most people who have seen it, without any doubt in mind I think it's Brian Robbin's best film.
Directors Cat
Super Reviewer
Kids are pretty stupid. SATs really don't mean that much. If they couldn't get into the college they applied, they could've gone to a community college and transferred over. No big deal. Anyway the movie was kind of boring, and really cliched. Like so many cliches, no joke. I only watched it because I didn't have anything better to do.
Francesca: You look like a slut. I like it.  "The S.A.T. is hard to take. It's even harder to steal." The Perfect Score is a horrible teenage heist comedy that makes no effort to do anything original with it's characters or situations. Some of the worst performances I've ever seen done for cliche teenagers. The worst comes from Leonardo Nam as the "stoner." He talks really slow and with the surfer accent duuude. He gives his best Sean Penn impersonations and guess what; it was pretty shitty. Why Darius Miles was involved; I have no idea. It might of been because of his lack of success in the NBA, but come on. Why would you cast him? He's godawful as the "jock." You got your other cliche characters like the "brains," the "rebel," the "dumb" and the"smart, but not smart enough." Everything about this movie annoyed the hell out of me, except Scarlett Johansson's looks. Her performance was below average, but she never disappoints. Erica Christensen was also horrible and might have given the second worst performance behind Nam. Her performance was so bad that I'm actually going to say that Darius Miles was better. He's not even a fucking actor. That's how bad Erica is. As for the story; it had potential. It could have been decent, but it never tries to be anything other than a typical bad heist movie. He doesn't seem like anyone really tried.
Melvin White
Super Reviewer
The Perfect Score Quotes
There are no approved quotes yet for this movie.