The Perfect Storm
(2000)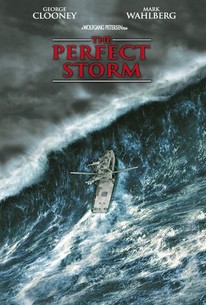 TOMATOMETER
AUDIENCE SCORE
Critic Consensus: While the special effects are well done and quite impressive, this film suffers from any actual drama or characterization. The end result is a film that offers nifty eye-candy and nothing else.
Movie Info
In October 1991, a dying tropical hurricane from Bermuda collided with a cold front from the Great Lakes, resulting in a "perfect storm" of previously unknown destructive impact that resulted in 100-foot waves; tragically, the crew of a fishing boat was lost in the midst of the fearsome storm. Based on the best-selling book by Sebastian Junger, The Perfect Storm tells the story of the ship's brave and hard-working crew. Billy Tyne (George Clooney), captain of the Andrea Gail, hasn't had much luck finding catch on his most recent trips to sea, and with money short, he and his crew -- Bob Shatford (Mark Wahlberg), Dale Murphy (John C. Reilly), and David Sullivan (William Fichtner) set out again when they hear that the fish are running. Billy's hunch proves correct, but when the ship's refrigeration system goes haywire, they have to return to shore as quickly as possible before the fish spoil, sending them into the middle of the worst storm in history. The supporting cast includes Mary Elziabeth Mastrantonio, Diane Lane, Bob Gunton, and Karen Allen; Wolfgang Petersen, whose breakthrough film was the aquatic wartime drama Das Boot, directed. ~ Mark Deming, Rovi
Critic Reviews for The Perfect Storm
Audience Reviews for The Perfect Storm
½
It is a shame how this movie turns a real nightmare into a dull Hollywood spectacle full of visual effects but with little character development, and it even makes the biggest mistake of showing more people caught in the storm instead of only focusing on the crew of the Andrea Gail.
Carlos Magalhães
Super Reviewer
First, there's all dese Hollywood types gettin' dere New England accents a workout, and dat ain't too bad none, nosirree, but the real star here is the CG generated storm that decently conveys the immensity of the sea and just how small we are in it. Not too shabby.
Kevin M. Williams
Super Reviewer
½
A movie that leads to nothing and you leave the theatre feeling crappy for seeing it. Its depressing, it leads to no conclusion, and i'm glad The Simpsons were bold enough to make fun of this crap. I never felt intense when watching it, and even with a all star cast it has nothing great about. Only reason I gave it a 1.5 is because the acting was decent. this film is not worth it.
Jim Careter
Super Reviewer